I finished one of the two patchwork felted pillows on my UFO list. Here it is, front and back:
I also managed to photograph My Lord and Master wearing his new Viking Sweater, now complete with pewter clasps. Was I right, or was I right, that he looks really hot in it?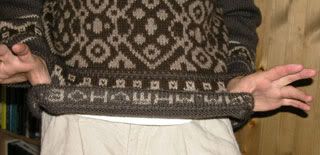 This (showing more accurate colors) is a shot of the Fair Isle knitting I did in the hem facing (a la EZ, but in Cyrillic). I put in the date, but instead of the actual random day I finished it, I put in tomorrow's date, which happens to be our 2-year anniversary. It occured to us that in two years of marriage I've knitted him precisely 2 sweaters. I now seem to have committed myself to knitting him a sweater every year. I'm already planning next year's - another Dutch Fisherman's Sweater, but this time I'm going to make it in a nice cream or tan color that shows the pattern easily, and in a softer yarn, and I'm going to do one with much more complicated stitch patterns, so I don't get bored, as I did last time. I'm actually looking forward to it, but I won't start until after UFO August and after I've started the new Fair Isle sweater for myself.
Two whole people (that I know of) have now taken up the gauntlet of my Knit-Geek Questionnaire - hurrah! Go read them: here's the
Purloined Letter
and
Spectacled
. And
fill out your own!