I have one more UFO completed, from
my list
: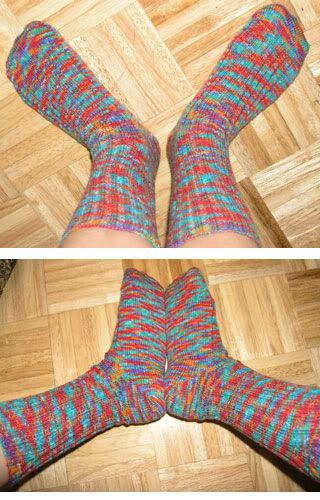 The yarn (Regia) pooled in all kinds of funny ways, but I'm one of those people who is entertained, rather than annoyed by pooling. I swore to keep knitting these until I ran out of yarn, and I did, dammit.
And another that's not really on my list, but is cute anyway: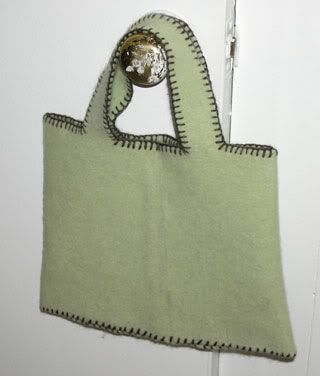 That's the mint choc chip handbag, of course. I said I was going to needle-felt a circle or spiral on it, but I decided it's perfect as it is. It's just the right size to take a pair of socks to the park in (hence the FO!)
But there's bad news.
For the first time in my knitting life, I've decided that a major project that is nearly done needs to be frogged. It's the black ballet sweater. It had a lot of potential. Here's the original design, which I made up by copying a commercial ballet sweater: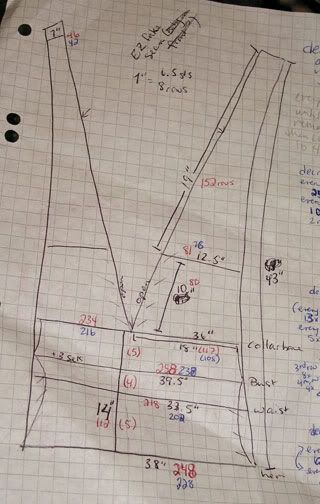 And this is how it looks right now:
The yarn is wonderful, too - it's a baby alpaca / silk blend that I got in Russia.
So what's wrong? Well. I didn't take good notes on what I was doing and then set it aside for over a year. The tiny yarn on big, slippery needles has been a problem throughout. Makes gauge measurements real shaky, too, and this is the first time I've ever tried to shape what is essentially lace knitting (though it's in plain stockinette, it's so loosely knit that the gauge isn't right until it's blocked, like lace), to fit my body. And I wanted this to fit well. And, it's a funky shape. Also, it's black, so -- like with the infamous Mom Sweater -- it's been difficult to see what I'm doing. So...all this combined means the thing just sucks. The shaping is all wrong, it hangs funny, and I can't possibly tell whether / when one side will match the other. But, you say - you're so close, why not just finish it, and block it, and then see what happens? Because the one sleeve that's almost done is also too narrow, and because the knitting of this has been miserable, and I just can't take the idea of frogging parts of what I've already done, much less finishing it, then frogging still more to make it work. The yarn has a delightful hand, but that's all the more reason to re-use it for some more pleasing project.
So, I haven't actually frogged it as of this moment. I'll stick it back in the closet until I actually know what I want to do with that yarn and until I've forgotten the pain I'm experiencing right now about all that wasted work. But it's off my UFO list.
The sad part is that my poor friend who I taught to knit is knitting the same sweater as her first real project, right now. Naturally, when I wrote out her pattern I did it without all the fancy shaping I added to mine, and she's using a normal yarn at a normal, appropriate gauge, and so - fingers crossed - hers should turn out just fine! Please please please....
In other news, I've been making myself feel a little better by thinking about new projects. Yes, yes, I'm still working on my UFOs, but that doesn't have to mean they're all I think about, now does it? I can't wait to start on a new pair of socks, now that the above-pictured albatross is off my neck. And I'm thinking about Fair Isle. And, while going through my stash for something or other, I came across a small selection of yarns that I think should turn into a nice set of
Mrs. Beetons
to go with my cherry-red winter coat. Here they are: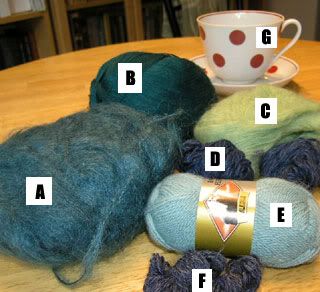 The colors are pretty accurate, on my monitor, at least.
A: Mohair, a slightly silvery-dark blue-green
B: Smooth, cobweb-weight wool, emerald green
C: Mohair, a grassy-ish lime green
D: Alpaca, sport weight, one strand of dark denim blue, with one strand of a lighter denim blue
E: Baby alpaca, sport or lace weight, pale blue-green
F: Alpaca, sport or DK weight, dark blue and silver
G: This is not yarn, this is a teacup
I still have to go out and buy some beads (and of course finish those UFOs), but in the mean time - which yarns should I use for which parts of the pattern? Thoughts?
Thanks for all the lovely comments, people, and I'll continue to add to the list of Knit Geeks!!