When I first read Stephanie Pearl-McPhee's
At Knit's End: Meditations for Women who Knit Too Much
, I thought it was a really funny pun on those serious self-help books like "Meditations for Women Who Love Too Much," but actually just a series of wonderful yarn-related jokes.
I was re-reading it recently, and realized that I really
need
the meditation...one of them, in particular:
"Everyone has one - a knitting monstrosity. It is not a surprise to me that everybody has one of those "What was I thinking" sweaters, because I have several. What is a surprise is how long the knitter must have ignored the writing on the wall. To get a finished monstrosity, hours and hours of patient denial must be put in. It is a knitter's unfailing and remarkable ability to believe, even when something begins to look monstrous, and keeps looking that way through all the knitting, that somehow it can overcome anything and will be beautiful in the end...that is the real surprise.



Not every project is meant to be."
(p. 14)
Two of my UFOs were monstrosities, and I am taking serious measures by recognizing this, and stopping now so I can save the yarn. You already heard about the black ballet sweater. In addition, I went to go look at the other major UFO, the pink microfiber
Rosebud Pullover
(though with closer-fitting sleeves and added bust shaping) after finishing the lace pillowcase panels a few days ago.
[this photo is the one showing accurate color]
I pulled it out of its bag for the first time in months. Nothing had changed since the last time I looked at it, except for my new way of thinking. And my new way of thinking was horrified: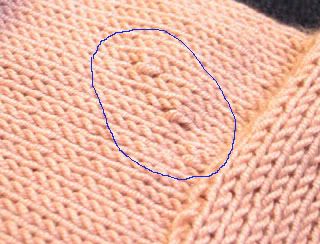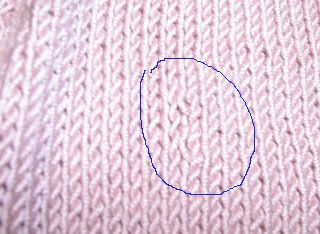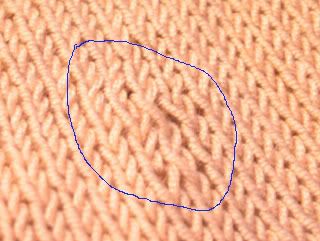 The top picture shows the cap shoulder shaping, which I did with short rows. I figured it out myself and was very pleased with how perfectly it fit and how neatly I'd done the turns - until I realized that, unlike wool, the microfiber makes even the neatest turns stand out like flashing neons signs saying, "Mistake here!" instead of "brilliant, subtle shaping hidden here" being visible only to the experienced knitter. But all that was long after I'd already done the bust shaping and
SHOULD HAVE NOTICED
that it looked like a cat had pawed my knitting. The middle picture in the series above shows the left side of the shaping, which looks pretty good from the angle shown here, but more like the cap sleeve if you look at it straight-on. The bottom, truly hideous picture, shows the right side of the shaping, where I'd done yarn-overs on the purl side for each turn. That side always ends up loose for me on socks, too, though not so much that it looks bad, at least not in wool.
This microfiber, though - its gorgeous shine and drape -- the things I love about it -- are precisely what pulls those turns out of shape and makes them look like crap.
What was I thinking?? I was thinking that I was in Russia, my temporary Russian stash was still small, and I only had enough yarn for a sweater in this lovely pink microfiber. I was looking through the patterns I'd taken with me, and was feeling most compelled by the lovely Rosebud Pullover from Knitty. I was dreaming about wearing it in a lovely dusty-pink color. The only color I had happened to be the perfect color. I did a swatch, and it happened to knit up to the
exact right gauge
on the first try. Apparently, I took that to mean this was God telling me, "never mind that's it's the wrong fiber - knit it, girl! knit it!" Either God was wrong, or there was a little difficulty in my translation.
Now you know why I needed that resolution. Time to substitute animal fibers for animal fibers -
and
in the right color and gauge. And time to practice my short-row shaping!
So I frogged it.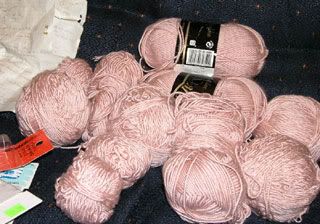 And I've learned that frogging is a lot easier if:
- You concentrate hard on the new, wonderful, appropriate project you're going to make with this fabulous almost-new yarn you have, and
-You frog while listening to a friend tell a traumatic story, so you don't really have to think about the sweater while it's disappearing or hear the ripping sounds
I think I'm going to make a very plain, long-sleeved t-shirt style v-neck sweater with the pink microfiber that will take advantage of its gorgeous drape and have no shaping whatsoever (I'll leave slits in the bottom of the side seams, to accomodate my generous hips).
And I'm going to use the black baby alpaca/silk from the ballet sweater for a lacy scarf or stole, as the yarn no doubt intended itself to be used.
I'm also frogging the gauntlet mitten, so I can make two new, matching ones from scratch later on. I actually did find my notes from the first one, and they were full of - "do this next time," and "it would fit better if..." So I'm going to make a pair according to these adjusted directions some other time, probably in different colors. And I can't wait to someday cast on for Rosebud with the proper yarn, though probably still in pink.
I also frogged the couple inches I had, which was really more of a swatch, for a lace panel for a patchwork skirt. I didn't like how it was knitting up, and now that summer's almost over, I think it's wiser to take some time to plan what I want to do instead, hopefully so that I can do it right in time for next spring.
Another item on my list, the log cabin afghan, was unrealistic anyway (it should take 5 years, minimum, if done right). And then there were those lace panels....
At last, here they are, finished:
They're not yet blocked, much less sewn into the pillowcases, but that's because I haven't yet bought the pillowcases. Long story. But the point was to finish the knitting, since this lace has been haunting me forever, and now it's done!!
And I think that's about it for my UFO August. I'm really proud of my progress this month, and it feels
fantastic
to have all these projects out of the "guilt" corner of the craft closet and into a clothes closet (or back into yarn) where they belong. Even if I didn't end up with as many FOs as I'd hoped, I learned a lot and am in a much better place. Let's review my accomplishments -- here's my original UFO list with frogged or completed items crossed off (following on
The Purloined Letter
, I think making the wise but difficult decision to frog counts as getting rid of a UFO):
1.
Brown Fair Isle raglan sweater
2.
Felted pillow cases
2.
Black ballet sweater.
--SENT TO FROG POND.
3.
Pink microfiber Rosebud pullover
.--SENT TO FROG POND.
4.
Lace panels for pillowcases, from Weekend Knitting
.
5.
Scarf for Hubbster out of Merino/Yak blend
.
6.
Socks
.
7.
Knitted panels for skirt
-- SENT TO FROG POND.
8. Mason-Dixon Log Cabin sampler afghan.
9.
EZ Mystery Mitten
.--SENT TO FROG POND.
Ura!! And that's not even counting the dreaded Mom Sweater that had been making me feel guilty for more than 4 years and which I finished before August started.
You already know about my resolution to follow instructions in the next few months (at least). So, hopefully there will be much fewer projects grinding themselves into frustrated obscurity in my knitting future. In addition, I've thought up the following WIP guidelines for myself:
It's only fair to always have one of each of the following upon my needles at any given moment:
1. socks
2. lace
3. a sweater
4. a gift project, or something else that's small, quick, or not for me or Hubbster
5. a simple, portable mason-dixon project (warshcloths, bibs, absorbas, etc)
6. the almost permanent ongoing afghan project
Variety is the spice of life, and this range covers all my knitting moods very nicely.
This is the key point: I'm allowed to cast on one of each of these, but I can't start something new in addition to this list until I finish (or decide to frog) the first item in that category, or any one of the six items if the new item I want to start doesn't fall into any one category).
Swatching doesn't count.
Six at a time. Do you think I can stick to it? Could you?
I already started a sock, my first with a self-striping yarn, a few days ago to replace the yak scarf for knitting in the park. It's going - I swear - three times faster to knit a sock in stockinette rather than rib. They're for Hubbster, and I'm already almost finished with the first one. I did the short row shaping for the heel in the park, without instructions, for the first time. See - I'm learning the skills I was hankering after already!
And two nights ago I began my new sweater project, which is making me inordinately happy already. It's the 28-color
Palette Sampler cardigan from KnitPicks.
I bought the yarn with birthday money last spring and have been daydreaming about (and occasionally fondling) it since then. Although I like how I think it will look (worn WITHOUT the icky belt they always photograph it with, for some insane reason, and with pewter clasps instead of buttons, and in the much more vibrant colors the yarn really is than you see in the picture), I was dying to make it primarily to (a) play with this many colors, to (b) perfect my Fair Isle technique, especially to practice doing it two-handed and (c) to do my own steeks for the first time, and try crocheting them (my previous steek experience was in Norway, where they were machine-sewn and cut for me by the women who taught me to knit).
So far all these goals are being
very
happily met, and I have refrained from messing it all up with any wild flights of fancy. The yarn also has a lovely hand - I can only describe it as crunchy-buttery. I know that doesn't make any sense, but that's what it feels like to me.
I had this wild temptation, upon finishing the last row of the last lace panel, to cast on for one project in
all
of my six categories (except the afghan, since I already did that), but I managed to hold myself back. For now, the Palette cardigan is completely obsessing me, and the sock gives me something to do when on the move. I'll try to add on projects gradually, and wisely, from here...
(PS - If you haven't already, go see
Eunny's latest post
about how fast she knits even complicated color or lace patterns. She links to an older post,
here
, where at the bottom she mentions that the key factor in knitting quickly and happily is being able to read and understand your knitting, so you can jump in and go at any point, and free yourself from chart and instructions. I love this. For me, it's both a lofty goal to aim for, and an affirmation of what I already feel about patterned knitting. I think part of what has drawn me to knitting so strongly since my first Norwegian colorwork sweater was being able to cop on pretty quickly to the rhythm of the pattern and how it grows, and to knit happily away without much in the way of mistakes or reference to instructions. It is fast, and much more pleasurable. But, as I've said, I often mess myself up by unnecessarily altering everything to the point of going way past my real abilities, so that it ends up frustrating the hell out of me and requiring a lot of attention. And, since the internet knitting boom, I've been trying out new techniques so fast that I haven't been giving myself a chance to really take them in and understand them. Her theory explains how I knit Icarus so fast and almost effortlessly, while watching TV, for my first much-delayed and slightly feared lace project. It was easy to read, and once I got it, it just flew by. Eunny put this all so much better than I can, and I only
wish
I could ever aspire to knit, much less design, sweaters like she does. Inspiration. )