It's getting boring to start every post with an apology for how long it's been since my last post, so I'll just not.
I'll just show you some super-pretty wool instead, okay?
'Cause yesterday I got another box from
The Spinning Loft
(yep, you can
order online
now). I know, I'm going there in August so why couldn't I wait? Because I had to make sure I finally got my paws on some
Abby batts
, that's why! They go fast. (They're made by
this Abby
.) And then,
Beth
mentioned that she had a lot of BFL. And I'm now a complete sucker for BFL. And she had some in oatmeal.
Oatmeal
. Like it wasn't good enough to eat already.
So looky at the box that came, complete with pretty tissue-paper: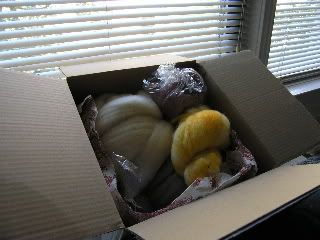 Please note presence of delicious Abby batts.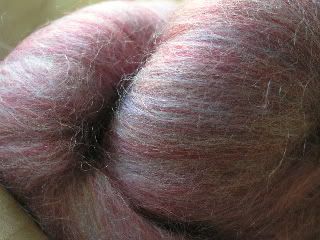 That's
orchid sock
– specially blended for sock knitting. It's superwash/romney/falkland/merino/tussah silk. I'm trying to remember I'm still on a budget, so I got a modest pair of wee all-too-cupcake-like bits. I've been wanting to try getting singles nice enough to actually knit with as singles, so that's my plan for this, and I'm hoping to have enough for footies.
Meanwhile, apparently the Abby batts I picked out were a tad light, so Beth being Beth, she threw in "a little something extra." This "little" something was: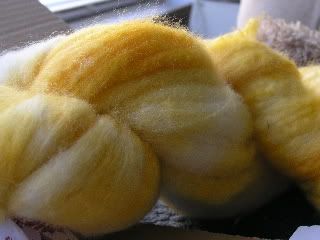 4oz of kettle-dyed BFL. MMMMMmmmm. I know, you wanted to wrap the roving around your neck and wear it as-is, don't you? I do, too. And I just might. Although the other possibility is to spin it up and make the morning surf scarf from the
cover of the summer Spin-Off
. I'm actually already making one of these scarves, in a yarn I spun from one of my birthday fibers that my dad bought for me when we were in New Hampshire, which turns out to be very much like the fiber/yarn that the designer used. However, if you've seen this issue, you'll know that they show a whole lot of variations of the scarf in lots and lots of different handspun yarns. And every single one is
luscious
. (The yarns totally make the pattern – which is actually very simple, so much so as to be obvious, but a heaven-sent perfect match for handspun). So I found myself wanting every last one of them, maybe especially the one from kettle-dyed fiber (yes, the one in the magazine is red, but I swear that's not the only reason I especially love it). So now I'm thinking I could make a second scarf in this new kettle-dyed BFL, and if I'm really generous I might let my mom have it for christmas. Maybe.
In the meantime, while I'm on the topic, here's the morning surf scarf that I already started, from 4oz of merino/silk from the
Fiber Studio
in New Hampshire: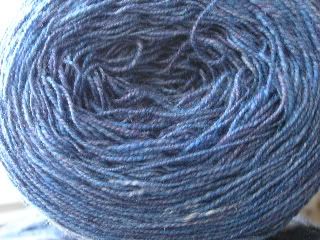 I think that this may be the best spinning I've done to date (I had to put one bobbin through the wheel twice to get enough twist in to ply it, but otherwise smooth sailing on the fast flyer) – it's the most recent except for the sweater-size project that's on bobbins right now (she says mysteriously, saving that project for another post) – and it makes me feel ready to tackle the merino and (separate) silk already awaiting me in the stash and – now – the Abby batts, all of which have been scaring me. Until now. Yay!
But back to yesterday's box-o-yumminess. There was that whole pound of undyed BFL, too! Half white and half oatmeal: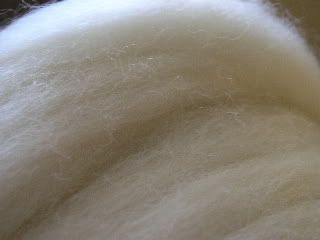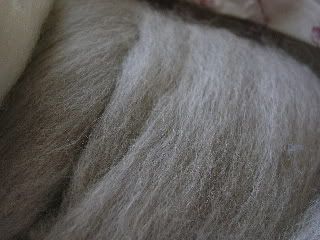 I'll probably dye the white in some fun way, but the oatmeal must remain in its delicious undyed state. Not sure yet what I'll make with either one, I'm just enjoying touching and sniffing them for now!
In other news, I've been working on this cardigan from my first three whole, finished, non-experimental wheel-spun yarns:
It's a made-up non-pattern based roughly on EZ's methods, with the stripes meant to compensate for spinning ineptitude and the ribbing meant to give a fitted shape to what is essentially a mindless knit. I wanted a cardigan to leave at my (new! first ever!) office, since I don't really own a decent cardigan, so it's practical, too. The red dyed Corriedale is the first real skein from the wheel, and it looks it, as it's under-plied and quite uneven. Then there are two other skeins, both from the white BFL I got in the box from Beth that arrived the same time as the wheel. I dyed those with kool-aid in two batches, pretty much randomly. You saw bits and pieces of this stuff in my previous three posts. I'm really happy and kind of amazed by how it's coming out!
The really cool thing, though, is to compare that red Corriedale to this skein of brown dyed Corriedale that I spun up just a week or so (but many, many hours of spinning) later than the red. The original fibers were identical, both from that initial box from Beth: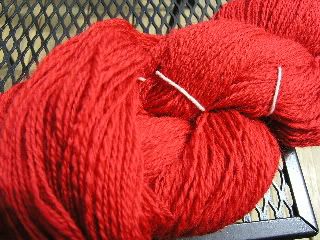 The brown one is hardly flawless, but
way
better than the red skein. To go with it, I dyed some white falkland/corriedale that I got as part of the birthday-present fiber, with kool-aid and tea and coffee. The idea was to roughly replicate the colors in
this amazing Brooklyn Tweed vest
, which Hubbus would very much like to have for himself. His favorite colors are browns, orange, and blues. I would have liked to get a rich royal blue for this, but couldn't make it happen with the kool-aid, so I settled for a denim blue. I also couldn't replicate that wonderful oatmealy color that Jared got (which, for the record, was his found yarn, not the hand-dyed handspun), so this my resulting variation:
I'm pretty happy with the spinning, but not so sure about the dye-job. Verdict is still out until I actually try knitting it up in 2-by-2-row stripes.
And oh, did I forget to show you the lama fleece Beth sent me "to play with"??
It's the thing I was whining about not knowing what to do with in my last post. I'm starting to feel ready to figure it out. And I bought pet combs and brushes to help me! More on that experiment as events proceed. And I'll show you the two cool new-to-me spinning-related tricks I unvented (which may well be known to everyone else, but I was excited nonetheless). And I'll show you what happened when I solar-dyed merino and tussah silk! Although I might wait to show until I've spun some up…I'm hoping it will look better when spun, although it's no tragedy, because if it doesn't I'll just dye it again.
Yeah – that's the truth of it. I've been having too much fun with fiber to even blog about it. :-)
P.S. I had to get two new bins for the craft closet, to hold the new fiber stash and the new yarns I've acquired/made in the past year. Here's a shot of them, including the spinning wheel bag, where the wheel could sit, safely stowed away, if I were ever crazy enough to actually pack it away, which I probably won't.