Um.....okay, I haven't posted in a long time, and I kind of have a hell of a lot to tell you all, most of which won't get told. Because I need to get back to my spinning. On my brand-new Kromski Sonata spinning wheel.
Yeah, you read that right. I had to go home sooner than expected (visa issues,
again
) and as a reward I got my spinning wheel early.
Sorry for just one bad picture from the whole receiving-opening-assembling exciting initial stage, but it turned out I had to charge my camera battery, and I wasn't about to wait to open it! This picture is from the moment the battery finished charging, by which time I'd been spinning all afternoon and the light was gone....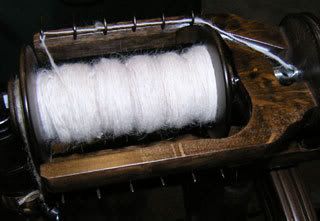 First yarn!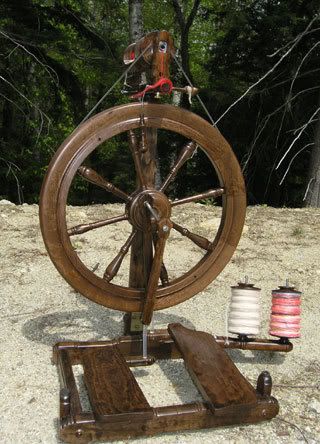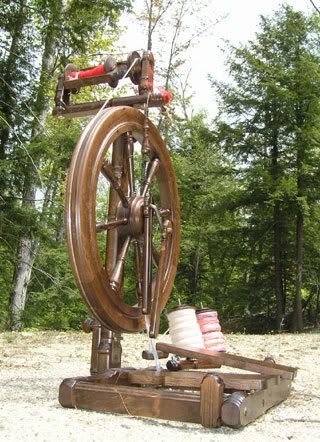 Beauty shots.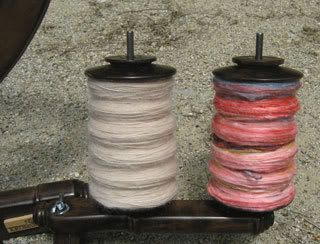 First yarn (undyed wool) on the left, kool-aid dyed silk hankies on the right, to be plied together for socks.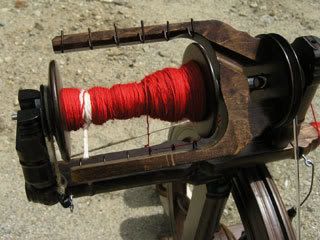 Dyed corriedale, and the first official bobbin of for-real-intended-to-be-good-yarn fiber (the previous bobbins being from more or less scrap fiber, but surprisingly very nice after the first few yards).
All this - wheel and fiber (and you ain't seen the half of the fiber yet) is from
Beth's awesome year-round-fiber-festival shop
(which has a spiffy new web site and is now open for online orders!). I had to call Beth about setting up the Scotch tension, but otherwise the whole assembly and getting started business was completely easy and effortless, thanks in large part to the early spinning training I got from
Beth
and
Erika
when I was in Michigan last summer, and my subsequent obsessive research on the internet since then.
Did you know that Beth is my new Favorite Person in the World?
So now it's official: I'm A Spinner.
The only thing missing for the wheel is a name....
...thoughts?