Edited to Add: Captions to the photos!
I've been working all week on the last huge events for the year at this regional studies institute where I work, so there hasn't been too much knitting and no picture-taking since last time, but I've got a free afternoon today and I can at least add the info to go with the pictures from last time. Scroll down - new text is in bold.
Heya! I feel like I've been away for ages. I miss you guys!
We're apparently not getting a spring this year, but have gone straight into summer at warp speed. Loving it. Totally oxygen-drunk.
On that note, I'm taking my cue from
Specs
and finishing the post in pictures. Details and things to follow: once the initial shock of being practically finished started to wear off, I quickly became flooded with ideas for the blog. I'm still too exhausted to actually execute them, but I'm recovering fast (not to mention, the days are getting longer and sunnier!!)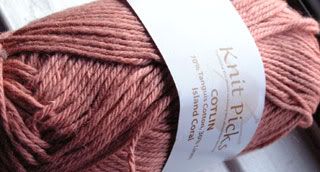 CotLin - In response to demand, I will certainly post a review asap. I'm about a third of the way through a simple bath scrubby right now, and will review as soon as it's done and shower-tested. I got this one skein to try out the new yarn. All I can say now is that I can't wait until the "natural" color is available (early May), so I can order a bunch of it and make hand towels a la Mason-Dixon! And, yes, I hope they're going to add a LOT more colors to that line soon!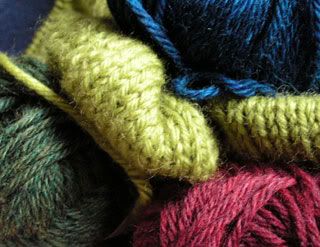 These are all Knit Picks' Wool of the Andes (100% Peruvian wool) in worsted weight. I got two balls each of Avocado, Black Cherry Heather, and Forest Heather, and many more balls of Sapphire Heather for a Dutch fisherman's sweater for Hubbster. The other colors are destined to be bed socks, inspired by Laura's. The Avocado is for my mom for mother's day - she wears almost entirely black with the occasional red, but likes to have small touches of wild colors every once in a while - like avocado. But what amazed me when the yarns all came and I threw them in a basket with all the WIPs is how avocado looked amazingly beautiful with

everything,

and also seemed to make all the other colors look better. I don't get it, but I can't stop staring at my yarn basket! I have to say that I also love the color selection of the worsted Peruvian wool in general, much more so than the fingering-weight Palette (I have the palette sampler, and while I love having a ball of every color and playing with them, I love them mainly as a collection - I adore almost all the colors of the worsted set more

for themselves,

if you know what I mean). This surprised me because the first three balls I bought of worsted WoA was Firecracker Heather, and I don't really like the color (though the yarn itself is great and will make nice socks anyway). It's too much yellow/gold for me, which I didn't see on my monitor, but should have guessed based on the name, probably. By contrast, all four colors I just ordered this time looked much more beautiful than I expected. The Sapphire Heather, in particular, is spectacular. I think WoA will be my new felting yarn of choice (someday, when I can justify spending again...went a little overboard this time!)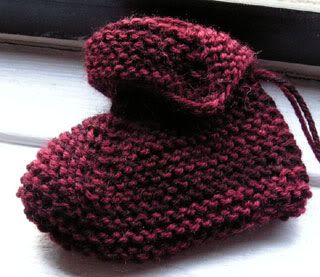 One finished EZ bootie (though ends still loose, as you can see). All the new goodies arrived shortly after finishing this, so who knows when I'll get to the second one. It's Arucania wool, leftover from the Baby Surprise Jacket from awhile back.
Orchids for my birthday! Also a little oil lamp which, when lit, reflects the tree shape onto the wall. Very cool.
Yes indeedy, folks, it's my new but already much beloved KnitPicks Options needle set. The basic set was my birthday gift from mom, which then somehow legitmated my going back to KnitPicks to buy the 3 biggest needle tips, plus extra cords and two sets of size markers because of my large numbers of WIPs, plus a couple extra sleeves to hold it all. When I first got the set, I was mildly annoyed that the case was so big - taking up valuable space in the knitting bag. Now, it's exactly, precisely full. Not dangerously overstuffed, but just holding every possible needle-related tool I might ever need. Yay!! I
love
the idea of being able to grab this and go anywhere, knowing that I have every possible needle combination I might ever need. I know one complaint has been that the needles aren't labeled for size - this is annoying, though my other needles that were labeled have all seen their labels wear off, except of course the Denise ones where it's gouged into the needle itself - can't do that with metal! I'm glad, though, that they didn't label the sleeves in the case, because this way I get to choose how to organize them. I chose to use the round plastic size markers they sell separately to mark which size is in which sleeve. That is, I store the size markers alongside the same size needle tip, and it also serves to tell me what size the needle tip is at a glance. As for the performance of the needles themselves...well, we all have our biases. My needle preferences are very strongly for: circs only (magic loop for small knitting in the round), fast nickle-plating, pointy tips to cut down on the cursing and dropped stitches and split yarn during complicated stitch maneuvers, super-thin-super-flexible cords, smooth joins, long enough needle tips that the end of my large hands don't rest right on the join, and some reasonable amount of heft. Although I know almost everyone prefers the lightest possible needles, I actually don't. I can't even knit with plastic circs, because they're so light I feel like I lose some measure of control. I think it's partly because my hands are relatively large and rest on the needles themselves, so I need needles sturdy enough to take that, but I also seem to somehow use the pull of gravity on
slightly
heavier needles in order to manipulate them comfortably. I'm not sure I could explain it any better than that and I haven't figured out how to embed a video on blogger, so you'll just have to trust me. Anyway, as you can conclude from this, I feel like the new KnitPicks line is made for me. My favorites before were Addis, and I will try their new lace needles as soon as I can afford a pair - I have a hunch I might prefer them for lace, but that the price difference would keep me loyal to KnitPicks at least until I get a real job. In any case, having made my first and so far only lace shawl on the old Addis, I no longer really fear the sleekness of nickle plating in any project (tho, again, if I had the money I would welcome a collection of the new Addis that are specially coated for lace, in addition to the good cords and tips). The only time I use straights or wooden needles is when I'm doing something small and very process-oriented and just feel like knitting the way my ancestors would have to specifically to enjoy the feel of the wood. I do this pretty often, actually, but with things like dishcloths or a scarf - not ever with a large or fussy project. My needle collection is really large partly because half of them are aluminum (the noise they make feels like nails on a chalkboard to me) or plastic - those were the kinds of needles I was taught on, that the people who taught me used, and that were available for me to buy in the years before knitting caught on but when I built up my initial collection of tools. Those have been increasingly gathering dust as I've gathered the kinds of needles I really like. But until I got this extended Options set, there was always a size (US13) or a length (16") or something that forced me to use icky needles that drove me crazy. And even my favorites, the Addis, that I had in the most commonly used sizes, were annoying for the dull tips, and the wonderfully interchangeable Denise set cords drove me insane almost daily, even while I really adored being able to leave knitting where it was while adjusting needle size or cord length as much as I wanted. Now I've got everything I could possibly want, and it's portable and organized, too! Yahoo! I really feel like this set has changed my knitting life in a huge way. Can you list the moments when you discovered something that transformed the way you think about knitting or the way you knit? Here's my top ten (in chronological order):
1. Seeing Norwegians knit complex, colorful, wool sweaters as though it's as natural an act as breathing.


2. Seeing a copy of Montse Stanley's handbook for the first time and realizing that there are dozens of ways (at least) to do anything in knitting, and they all have different advantages.


3. Walking into a local, American yarn store that contained no acrylic.


4. The premier issue of knitty.com - written in my own language, featuring patterns designed by people like me, for garments that I would actually wear (at least 50% of the time and often closer to 80%, as opposed to the .05% of every print magazine I'd seen before that, and the circa 30% of even my favorite print magazine now). This discovery is closely related in my mind to the period of time when I found out where to buy yarn online that didn't break the bank but didn't force me to compromise on natural fibers, either.


5. Discovering Elizabeth Zimmermann. I think she was/is my first real hero or idol, as much for the way she lived her life as for her awesome knitting genius and marvelously entertaining writing.


6. Reading the Yarn Harlot blog the first time and recognizing its author as the same "Stephanie Pearl" who posted hilarious stories to the KnitList ages back (I had saved every one of her posts because her genuis was already then very obvious, but unfortunately they got lost when my laptop was stolen - I hope the thief likes knitting). I think that was the first time I recognized the possibility of a knitting community -- by which I mean something that transcended the exchange of tips, or even inspiration or occasional company -- I mean, in short, exactly what Stephanie writes about in her new book (only I wasn't able to articulate it until she did it for us)


7. Seeing Eunny's knitting for the first time and recognizing how much there is to aim for no matter how "advanced" you thought you were. And how cool and diverse and inspiring and essential knitting blogs are (I started by reading her list of blogs to read, and expanded outward from there). (BTW, do you have any idea how excited I am about the new editor of what was

already

my favorite knitting print magazine?)


8. Getting my first comment from a total stranger (whom I now feel like I know, through her blog) on my then-new knitting blog, and learning over time that blogging actually makes me work (on non-knitting things) better rather than worse, while also inspiring my knitting and making me feel part of a community of people whom I respect enormously as people, far beyond the fact that we have a hobby in common!


9. Learning, on Aija's blog, how to weave in ends easily while knitting, and then discovering soon after from Meg Swansen that this is the same way you're supposed to strand a second color over large sections of FairIsle (this somehow fell through the gaps of my Norwegian knitting education and played a big role in my not going back to FairIsle for a while)


10. KnitPicks Options and Classic Circulars.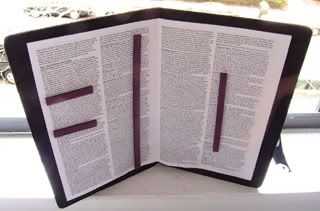 Because it was my birthday
and
the end of eight years of grad school, I also indulged in a chart keeper - the kind of arguably superfluous tool that I don't ever normally allow myself (I have a ball winder and swift because Hubbster bought them for me back when he was still a lawyer - I gasped at the cost and the unnecessaryness of it, and felt guilty about actually enjoying them for a while...until he pointed out that they cost less than any one of the dinners he had taken me to [oh, the good old days]) Anyway, I'm delighted with my chart keeper. It's surprisingly heavy - a definite down-side, but not a dealbreaker for me - and I'm sure I could have MacGyvered some kind of alternative for less than 10 bucks, but boy is it nice to just order the thing and have it, all beautiful and matching my other stuff and sturdy and handy. To date I have usually knitted only from very small charts that I memorize by the second rep, but that was largely because I couldn't find a comfortable way to use more complex charts. I hope this holder will make me take on some bigger challenges. In the meantime, it's awesome for holding my knitting cheatsheet - using the magnets to mark my place is at least as important with type this small as in chart knitting.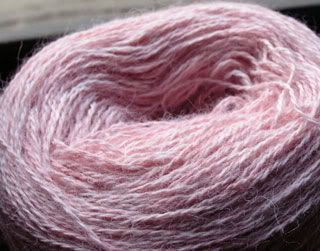 KnitPicks Alpaca Cloud in Peppermint. I wasn't sure I liked this color from the picture on the web - I was afraid it might be more red-and-white than pink - but I was in a "what the hell" mood with this purchase, and I tried it. It's
beautiful
and, as you can see, definitely pink. I have two skeins, and I'm going to make something from Victorian Lace Today in it, though I haven't decided what yet. Maybe a sampler stole, perhaps inspired by the one in that book and the one in A Gathering of Lace, but modified somehow or other. I'd also like to try an Orenburg shawl, but I don't yet have the book, and have kind of been thinking of waiting to try that until I'm in Russia next year (that seems to make sense...) Any other ideas?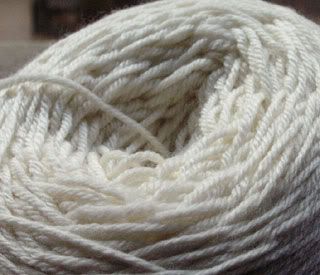 This is KnitPicks Bare in Merino/Silk. I'm going to make these stockings. I'll have to modify all the specs in the pattern to actually fit me - my feet and legs being nowhere near "average" in any dimension - but all my recent sock experimentation, with the help of Charlene Schurch, are making me feel pretty confident, and I think it's time to try stockings. The yarn feels like butter, I must add.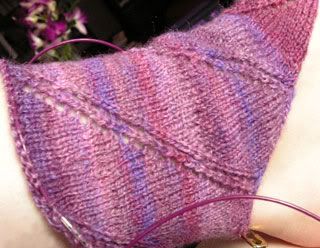 Anastasia socks progressing, progressing! I never tire of staring deeply into handspun. So much so that I actually pulled out my spindling starter kit again one evening...and ended the experiment, hours later, just like all previous such forays: tired, frustrated, and very, very depressed that I just
can't
spin. The only useful thing that came out of that session was that I think I definitely isolated the problem - I just can't coordinate one hand and the other - it's just like tapping my head and rubbing my belly at the same time (actually, I think I'm better at the latter than at spindling). So I'm hoping that you spinners out there are right, that I might have better luck with a wheel. Trying one (much less buying one) isn't on the horizon right now, but I have to maintain some glimmer of hope that someday I'll be able to spin for myself (Hubbster is proving unresponsive to my hints that he should try it...). I'm going to be in Michigan in August, though, and I'm very much hoping to visit Beth's spinning shop for further inspiration.
The skirt is almost done. I couldn't get the whole thing in one shot without it looking like a blob, so this shot just shows how the shaping turned out. I ran out of yarn just a few inches short on the bind off, so I ripped out a few rows of the ribbing at the top, enough to finish the BO at the hem and then do a tubular BO on the ribbing at the waist. I kind of ran out of gas at the moment, though.
Wildflower sock is getting there! I'm increasing for the gusset. Very pretty.
More flowers for my birthday!
My tart burner, given to me by the amazing Wendy of Dame Candle Company. I love it, love it, love it. We burn it every single evening and while we're working during the day, too, if we're at home. Lovely. Looks very pretty on our coffeetable, too, now that I've cleared off all my stacks of drafts and Hubbster's orals books, etc, etc.
This is the KP Avocado wool on its way to becoming bed socks for
me
mom (holy Freudian slip, batman!). These are also at the increases for the gussets, but at least they're both on the needles at the same time - they'll be done soon!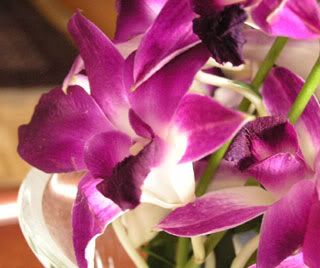 Close-up of the orchids. This has been a very rough winter, and I don't think I've ever enjoyed spring (summer?) blooms as much as I do right now....