We're home in New York again, it doesn't stink any more than usual, and we've just had a lovely breakfast of the fresh, homemade
pirozhki
and
bulochki
that Hubbster's mom sent us home with.
I promised you a photo extravaganza, and you're going to get one. Next time, I'll do the promised review of my new KIPer bags. And sometime soon, but not yet, I'm going to start catching up on bloglines, podcasts, and email. It may not be real soon though. I'm facing a big deadline - I have to send off full, respectable drafts of the last two chapters to an advisor on Feb 12. One of those drafts is the one I basically finished before the holidays, though it needs a few small additions, and the other I made serious progress on in Georgia, but it's still going to be a pinch to get it out on time. And once those are done, I need to do massive revisions to an earlier chapter and write the intro and conclusion by the first week of March. Then I'll have a bit of a breather and just do revisions from then until whenever my main advisor will let me schedule the defense. So, in short, I'm going to be insane until the beginning of March, then slightly less so until approximately May. So I can't make any promises about catching up on those 971 unread feeds (and growing!) on bloglines any time
real
soon....
But for now, on with the photos! (I won't bother to mention which ones were taken in mostly-sunny Georgia and which ones were taken in my living room in NYC. It's too obvious.)
As you all know, I've been working on felted slippers, aka
tapochki,
because you can't have a Russian or even a Russian/Dutch-American household without a strong supply of slippers, as shoes are
never
worn farther than 2ft beyond the front door, even by guests. So for a long time now I've been day-dreaming about having a basket full of lovely homemade tapochki by the door. Our 3-week sojourn in the suburbs seemed an ideal time to do the felting, and so I went to work. You've seen
some early efforts already,
including a few pairs of fuzzy feet and a striped handbag made out of the leftovers in my felting-yarn stash.
Much fun was had, ladies and gentlemen:
But let me back up and attempt a chronological survey. Before we left, I also whipped up the following
ad hoc
patternless slippers, to use up some random loosely spun Norwegian wool I had in the stash, in orange and cream. I had gotten sick of knitting the
fuzzy feet
pattern, so these were done using the
PGR method
on the same number of stitches as fuzzy feet, continuing until I ran out of yarn and finished off with a sewn BO that was meant to be
EZ's
but I did it by memory and I think in the process invented some odd twist on the BO, 'cause it didn't look right. Oh well - that's the beauty of felting - it all came out in the wash.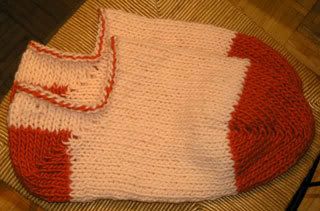 I learned a good lesson from this: although the fuzzy feet toe is a little bit pointy when felted, it is infinitely preferable to the PGR toe, which is very, very wide when felted. If I do it again, I'll decrease a bit on each side of the rows leading up to the toe.
Meanwhile, the fuzzy feet came out great. The red ones, made in a 50-50 wool/mohair Russian yarn, were very much in danger of felting closed, into a flat, 2-dimensional foot-outline, but I caught them just in time and wrenched the sides apart. They ended up with very pointy heels and toes, which in the red color makes them very much like elf shoes, but I like that:
The orange ones, made with loosely spun 100% alpaca, felted SO quickly that the very first time I checked them (when other items were only beginning to felt) they were already tiny, and at first I thought I'd have to give them to Hubbster's mom instead of Hubbster, as planned. But then he tried stretching them over his feet (while they were still wet), and it turns out they're
perfect
this way - they fit almost like socks rather than slippers, but they're deliciously warm and comfortable. After I saw this, I made sure to keep felting the red elf-slippers intended for myself to a similarly tight fit. We both like these much better than the blue fuzzy feet I made first, which weren't as felted. (NB: I stopped felting the blues ones when I did because the length was just right, even though they were still rather too wide. It seems like they felt more lengthwise
at first
and then if you keep going the width finally pulls in as well. It may depend a lot on the yarn and overall shape of the object, but this seems to have been the case with several of the slippers I made, all in different yarns.)

Here are the orange slippers "in action" - Hubbster was playing with camera settings and took this picture by accident. :-)
After the experiment with the PGR toe, I decided I wanted to try to make a slipper that was quick and easy like fuzzy feet - that is, an enlarged sock pattern - but in garter stitch so that the felted fabric would be denser. I'd been seeing
these marvelous Finnish slippers
around the blogs, but didn't know where to get the pattern (not to mention that it's presumably in Finnish), so I thought I'd just experiment, and see what happened. What I learned is that while I
can
probably re-create most patterns through trial and error, the amount of trial and error required probably isn't worth it - I could possibly learn Finnish knitting terms faster than I could re-create the pattern exactly as I want it, given that you can't unravel felt....
Anyway, here's what it looked like unfelted (mind you, I was using leftover scraps of many colors because I didn't want to waste proper felting yarn if it didn't work out):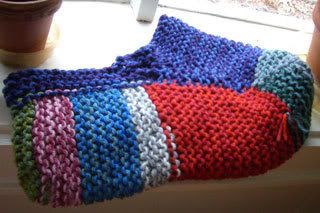 Here's the second one in progress. Basically, I cast on 20 sts (in two strands of worsted wool, in this case Paton's Classic Merino, on US#13 ndls), increased a few more at the center on the first and second rows to give the heel a bit of roundness (I folded the CO edge in half and sewed it up at the end), then I continued in straight garter stitch along the bottom of the foot. Then I did a PGR toe, except in garter of course, then continued straight along the top, knitting together the edge stitch with the loop on the selvedge of the bottom piece at the beginning of each row. Then, when I got to the last third of the length, I picked up sts around for an ankle/cuff. (NB: after looking around and finding a picture of the Finnish slippers unfelted, I realized the bottoms are done horizontally, from the bottom of the sole up to the top of the foot, rather than along the foot's length. Hrm.)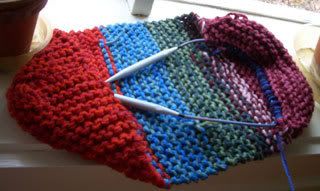 As we have now seen, the PGR toe ends up HUGELY wide after felting. When I took the slippers out, I had a shape something like the bill of a
platypus
in the front - the ankle and heel was fine, but then the slipper widened out enormously, ending in a gigantic, flappy toe. Unfortunately, I was too intent on what type of massive reconstruction might save this slipper to take a picture of it at that stage, but here's what it looked like after surgery: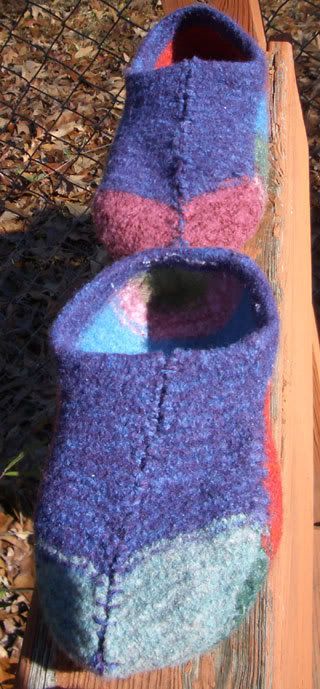 Thus, the "Frankenstein slippers." I cut a triangular piece out of the top, then sewed together the pieces with a doubled strand of wool, just like lacing shoelaces. Then (after the photo above) I felted the slippers again, and now they actually fit quite well (like the others, the extra felting seems to have reduced a lot of width but not much length, thankfully). If I can't get a copy of the Finnish pattern (preferably in English...or at least Swedish?? I think I can handle Swedish...), then I might try again, but this time just decrease quite a bit before doing the PGR toe. That would leave me with a narrower flap for the top of the foot, which it looks like the Finnish pattern calls for anyway.
Meanwhile, I'm sure you're dying to know how the
Bev Galeskas slippers
for my in-laws worked out. Here's the ballet slippers:
And these are the moccasins: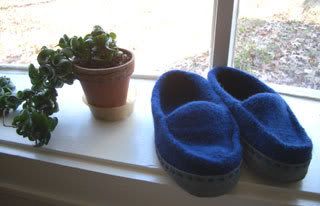 Both patterns are from her book, as opposed to the
one-off Fiber Trends clog pattern.
I had been worried about the moccasins because in their unfelted state it didn't look like the toe could possibly be roomy enough. But it was - they came out beautifully, and both in-laws were delighted. I think they both wore the slippers non-stop as soon as they were dry and I'd sewn on the suede bottoms.
After that first round of felting, I used the leftovers from these slippers plus the extra yarn I'd bought as a safety (in case the moccasins didn't work out and I had to quick whip up some clogs instead), to make a second set of slippers for me and Hubbster. Hubbster got blue moccasins exactly like his dad's, and I would have liked to make mine ballet slippers like his mom's, but I'd forgotten to bring my xerox of that one, and didn't want to miss the opportunity to use the free laundry facilities (especially since these suckers took about 6 rounds in the washer!), so I made moccasins for me, too, in the same color as my MIL's ballet slippers, but with blue soles and one row of blue on the inside of the heel, since I didn't have quite enough of the burgundy/mauve color. I finished felting these only on our last day in Georgia, so I had to take the pictures here, and the colors appear totally strange: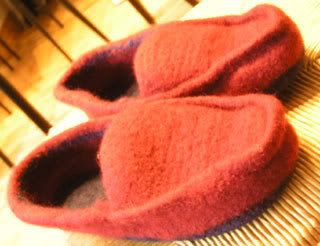 I'm going to add suede bottoms to these too - I've had them ready and sitting in the stash for years (purchased back when I had a better stipend), but hadn't had the will to deal with felting a Bev Galeskas pattern in the commercial machines here in NYC. I use Paton's Classic Wool, which is my favorite for felting (and the
Harlot's!
), but the pattern is very dense (that's its virtue, of course), and the wool relatively slow-felting (though very reliable).
Also, I notice that the in-laws' slippers look much nicer because they're much more thoroughly felted. I made all three moccasin pairs in the same size, but in my FIL's case, I had to felt down 1.5 shoe sizes from the one the pattern was intended for (men's small, or 9), and did the equivalent for the ballet slippers. But Hubbster's moccasin needed to be a 9 exactly, and mine an 8.5 (but I skipped a row on the sole to make it narrower, thus also making it slightly shorter), and so they didn't need to be felted as far. As a result, the fabric isn't as smooth. When I do it again someday (as I know I will), I hope I'll remember to make one size up, and just felt the heck out 'em until they fit.
Oh, but what about the random-stripes handbag, you ask?
I love it. By some miracle, the straps came out exactly the right length (both of them!). The proportions of the bag aren't quite what I expected - smaller altogether, but oh well. It's still a nice bag.
There was one little snag with the items that I made using random leftovers from my felting yarns stash: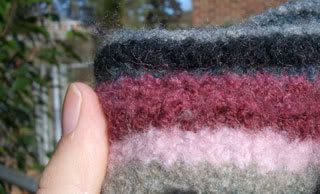 One of the yarns in the felting yarns stash did not, in fact, felt. It was a deep burgundy DK wool that I bought in Budapest. The label was in Turkish, so the only thing I understood on it was "100% wool" (and that only because the word for wool was written in several languages besides Turkish). I thought that was safe but...apparently it was super-wash. Luckily, in the handbag, I had alternated this burgundy yarn with two worsted yarns - a light pink below and a dark pink above - in one-row stripes, because I was worried about the DK weight being a problem. So, as you see in the picture, it's a very small space that didn't entirely felt. I wove a strand of the burgundy/mauve Paton's that I'd used on the slippers through that row of the handbag with a tapestry needle, then ran it through the washer again. The bag came out slightly smaller still, but it's now solidly felted, and it doesn't look doctored-with at all.
Unfortunately, I'd also used that same yarn rather heavily in the Frankenstein slippers as well, though always stranded with another yarn that did felt. The white 100% wool I'd used in the same slippers also didn't felt (though that at least I had half expected), but again, it didn't matter. I kind of like the effect, actually, and am thinking of doing it on purpose. What kind of pattern / object would best show off the effect, do you think?
Finally, there's the tea cozy: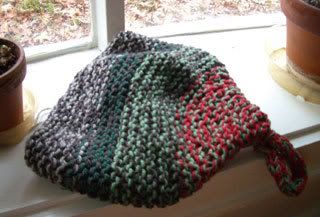 I made it out of leftover Patons, again, this time using only "tea-colored" yarns - green, brown, and red. It came out fine, though it somehow wandered off under the bed after it finished drying, where I forgot all about it. Therefore there is no After Felting picture, much less a Sitting Cutely on the New Teapot picture, because it's still sitting under the bed in Georgia. Or it was, until Hubbster called his mom a few minutes ago. She found it, and is sending it soon.
So that's the end of my felting adventures in Georgia. But not the end of the knitting by a long shot! I was also working on
red scarves
pretty steadily, though I still have nothing to show for it. I'm working on three scarves simultaneously, to stave off the boredom, so none of them are nearing completion yet. I need to pick up the pace, though, as they need to be sent off before the end of January. I also added a few dozen rows to the Widdershin second sock, but it too doesn't look blog-worthy yet. And...
I finally made
fetching!
In blue Paton's Classic Merino, leftover from the slippers. It was an emergency: after we arrived, it came up in conversation that the lab where my MIL works is freezing cold (it being Georgia, the AC pumps non-stop at all times), and her poor little fingers sometimes get so cold that she can't work the controls well. So Hubbster brought up the happy little factoid I had recently taught him about the pulse points on your wrist, where the blood vessels are very close to the surface, so that if you can keep them warm, it warms up your whole hand. (This was brought forcibly home to Hubbster on our last walk in NYC before we left, when I was wearing my
Mrs. Beetons
and he didn't have anything, and I was toasty warm while he froze his fingers off.) I'd already promised to make Hubbster some "manly" wristwarmers from his favorite alpaca after the holidays, but as soon as I heard about my MIL's dilemma I knew the time for fetching had finally come. I would have liked to choose a softer yarn out of the stash, but I also wanted her to have them asap, so I whipped up this pair in the next two evenings, and plan to make another pair (or maybe the wristwarmer pattern from
Weekend Knitting
instead) from baby alpaca or something sometime in the future. She wore the fetchings to work as soon as they were finished, and pronounced them perfect, and all her coworkers jealous. Triumph! The observant among you will have noticed two flaws in the photo above. First, the cables turn the same way on both wristwarmers, even though they're suppose to go opposite ways and would look much cooler if they did. I didn't catch myself until after the first three cable rounds on the second wristwarmer, and since time was a factor, I decided not to frog. Also, the twists look a little funny - more like gathers than twists. That's because I was trying to practice a method for cables without a cable needle that you can do all on the left needle without taking any sts off (until the twist is done), that I learned on my
Knitter's Glossary DVD.
But I'd misremembered it, and it came out a little funky. Still, it's cute and I like it. I also skipped the picot BO and made it plain instead. Actually, I don't think I've seen any Fetchings on the blogs with the picot BO - or maybe I just wasn't looking closely. I did it at first, but I thought it looked way too fussy, and also made the top curl outward. Anyway.
We did other things in Georgia.
We worked in the yard, breathing fresh air and getting much-needed exercise:
We rested*: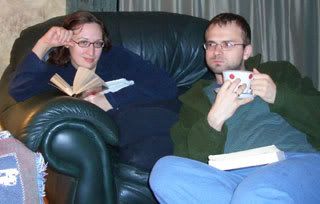 We played with my FIL's camera: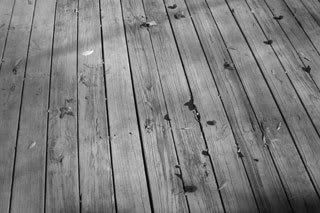 We ate well:
And we worked on chapter and orals, respectively, although no one took a picture of that, because it's bo-ring.
What was that about work? Oh yeah, better get back to it.
Many thanks, as always, for comments - I missed you guys while I was on dialup and unable to load your blogs, but the comments (which come to my email account and were much easier to load) never failed to delight me. Will try to get back to you all, and back into reading and commenting, when I can.
*It seems from the comments that many of you share my love for cheesy detective novels and historical fiction. Yum. I particularly love historical mysteries - possibly my all-time favorite genre of leisure reading. But I love any mystery set in England - it's just cozier that way, is it not? and will generally read any mystery, period, though I'm not into the bloody/violent/thriller types (I can live with that in a movie, but in a book somehow it's too "close" and gives me nightmares). And I love pretty much every kind of historical fiction there is, good, bad, and everything in between. Nice to know how many of you share this taste with me as well as the knitting. Not that it's terribly out of character for people who like to knit, I suppose...