I finished one! Well, if you count it as finished before the buttons are on. But it could be years before the buttons are on.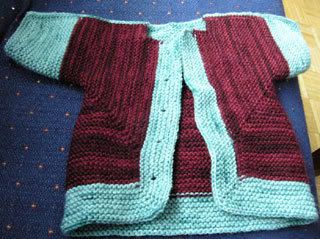 Elizabeth Zimmermann's Baby Surprise Jacket from
The Opinionated Knitter
(though I think it's in one of her other books too). In
Araucania hand-dyed 100% wool.
One skein of each color and I have a significant amount of each leftover, probably plenty for booties. I love how it has a kind of samurai look to it - which is much more pronounced if you look at it from the back. [Kate slaps herself on the forehead for forgetting to take that picture, too]. Will try to show you the back view next time.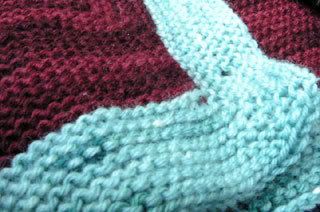 And of course I started another WIP. Actually, I started a
Marilyn sweater
but decided that even though I had matched the gauge perfectly, the color was all wrong for me, so I started again on an EPS hybrid sweater for Hubbster using the same yarn (Canadian
White Buffalo 3-ply
that I got from
Elann
dirt cheap a year or so ago). I mis-calculated the gauge outrageously (i.e., I used the number of sts in 2" as if it was the sts in 1") and somehow didn't notice that this couldn't be right until I'd knit a couple inches, pulled it off the needles, and realized I had a hem for a house cozy. I can only blame the fact that my head is still all stuffed up with my endlessly lingering cold. So I frogged that, started again, and now I have two inches of an
EZ
EPS sweater for hubbster. It goes really fast on US10 needles, but I'm worried about the yoke/neck shaping being alright in this huge gauge. I'm thinking maybe I should just rip it all out and make it into a blanket instead. EZ has a nice garter-st blanket design in Opinionated Knitter that called for fluffy, bulky, wooly yarn just like this. Plus, I really don't like the color. Not only did I not get a very good sense of it on the computer monitor when I bought it, but I also bought it in one of those yarn-lust frenzies where all reason goes out the window in the fact of such a low price for 100% wool. I also like the idea that it's just three strands of pencil roving that get slightly twisted as you knit, not really a proper yarn at all. It's delicate to work with but very, very fluffy. So I told myself it was a pure forest green and that even if I didn't like it or look good in it, Hubbster would. Actually, it's a yellowy-gold forest green and doesn't really look good on either of us, I think. But Hubbster says he likes it, and now that I've told him I'm making him a sweater he'd be very disappointed to hear it's going to be a blanket instead. Even if he'd like the blanket more (after all, it'd be deliciously fluffy and warm and who cares if it makes you look a bit sallow when you're cuddling on the couch?), he so much enjoys knowing that I'm knitting something
for him
that I'd hate to tell him I'm frogging it now.
So it looks like I'll throw it in the basket and start something else instead. Argh. Feel free, all of you, to use me as an excuse for your own startitis (as
some
of
you
already have). Insanity loves company.
You can also vote on what I should do with the chunky 3-ply:
The blogpoll thingy doesn't seem to work, so we'll do it the old fashioned way: put your vote in the comments:
What should I do with my dark green White Buffalo unspun 3-ply?
1.
Make EZ's seamless hybrid, plain
2.
Make EZ's seamless hybrid with a big cable going up the front
3.
Frog it and make EZ's chunky garter-st blanket, also from Opinionated Knitter
4.
Frog what I have and put the yarn away again, until it tells me what it wants to be
5.
Leave the 2 inches of ribbing I have now in the WIP basket until it calls to me again
6.
Something else, which you'll explain in the comments
Meanwhile, I'm revising. And revising, and revising. And temping, because we gotta pay the rent. This makes revising rather more difficult, but so far not disastrously impossible. Luckily, I was able to swing a temporary, flexible job at my regional institute thingy here at my university, so not only are people fairly tolerant of my bringing a draft printout with me everywhere I go, but I'm working for all the same sort of people who can help me get jobs and postdocs and that sort of thing. Not a bad idea to spend a little time helping them organize their brown-bag talks and Lacanian conferences, no?