So I've been starting one project after another, and usually throwing them down in frustration at some point, only to start some totally new project. But, a few things have gotten done:
1. The last first-drafts of the last chapter. Yes, folks, I'm basically done with writing from scratch...but there's a LOT of revising to do. Still, I'm feeling pretty good about that. I like revising.
2. Two out of the three
red scarves.
Couldn't get the third done by the deadline, so it'll have to wait until next year. Didn't even have time to photograph them before they went - sorry!
3.
Widdershins
. Finally. I used the sized-up numbers heroically figured out by
David Demchuk
, and graciously shared with math-impaired me. I still ended up having to fuss and re-knit the gusset on the first sock three times due to my monstrously misshapen feet, but the good news is, the pair is now done, the fit is PERFECT, as in - gosh - it's like they were made for me! You know, by someone who knew what they were doing. And now I
do
know what I'm doing, because I wrote it all down so I can repeat it on every future sock. Hurrah! The yarn is a truly wonderful in-house cashmere from
School Products
, with a little nylon. I think it cost all of $13 (I bought it a couple years ago, but I'm certain it wasn't more than that, since I've never spent more than that on one small skein of yarn, or even close). I was very pleased with how tall the socks ended up being - I knitted until I ran out, and literally had only a few inches leftover. They're soft, soft, soft, partly because of they're boucle structure - not to mention the 95% cashmere, of course.
I immediately embarked on a new set of socks, using the abso-fabu-gorgeous handspun
Krista
sent me.
Remember
howI was debating about whether I could really put yarn this gorgeous on my feet, or whether I shouldn't use it for lace instead? I came upon a perfect solution! I'm making moccasin socks, and using Kroy for the soles, and handspun for the rest! And since it looks like I've got tons of yarn here, I think they'll be tall socks. I'm using the
Anastasia pattern
from
Pepperknits
, not least because I loved the
Anastasia Krupnik
books.
I'm completely, madly in love with the colors of the handspun. But I'm not so in love with the Size 1 needles at the moment, because I've just been too exhausted, shaky and headachy to deal.
Soooo....I also started a skirt. A sort of cheer-leader skirt, except in this really dull metallic color to tone down the effect a bit. I got the idea for a short-ish pleated skirt in a neutral color from an ad for
Blue Sky Alpacas
, though I can't find the ad anymore. But the idea kept floating around my head, then I made the mistake of mentioning it to Hubbster, and of course he's ALL in favor of a short skirt....(Update:
found it
. Mine's a little different, it looks like, but now that I'm started on it I might as well keep going and see what happens. Someday I think I'll make another according to the pattern, tho, with the super-lightweight alpaca. It does look nice...)
So here I am, having now had lots of practice with my 1x1 rib. The yarn is 50%-50% wool/cotton. It's not plied, but rather the kind that's knitted into a tube, like I-cord. Fun to play with. A little stiff, like cotton, but still has some bounce, like wool. I got it in Budapest and meant to make a baby jacket with it, since I think wool/cotton is the ultimate baby yarn (all natural but washable). The hot pink you see along the CO edge is not meant to stay - it's the waste yarn I used for the provisional CO. However, I have to say, I rather like it with the gray-green. Who knows, maybe I'll leave it there.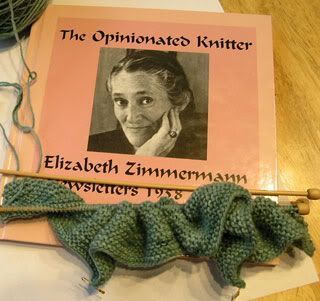 Speaking of baby sweaters, in a sudden fit of needing to knit something by
EZ,
I started a baby surprise jacket. Using two colors of Arucania 100% wool that I got on sale once, years ago. I've been wanting to try it out, but I find the handpainted variations too busy for most things, and the wool a bit scratchy for socks. I know, I know, if it's too scratchy for socks it's probably bad for a baby too, but I figure it would be a jacket worn over other clothing anyway. Mainly, I just wanted to play with this pattern and this yarn, and I'm totally enjoying it. Now I just have to find a baby.
Oh wait. Sorry. That's not one of my WIPs. That's one of Hubbster's. Going well though, I think.
Wasn't my last post with knitting content also filled with WIPs? How did this happen? What happened to my lovely rules?
Sigh. I dunno. Must rest. And then start revising.