People, you're not going to believe how good today is.
No, it's not that I had a minor breakthrough with my chapter last night, although I did.
It's not that after the breakthrough, I finally started the slippers for the in-laws' xmas presents and finished the first one before going to bed.
It's not that Hubbster bought the most yummy raspberry chai tea that we've been enjoying all day today.
It's not that my advisor emailed me about that screwed-up funding situation that I mentioned before, to say that they've found a solution (not an ideal one, but at least we'll be able to make the rent this spring).
It's certainly not the weather: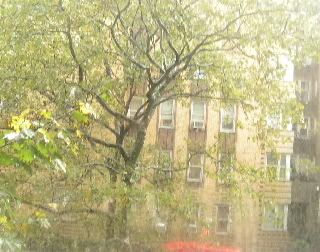 No.
The thing that's way better than you can possibly believe is what the mailman brought to my door today: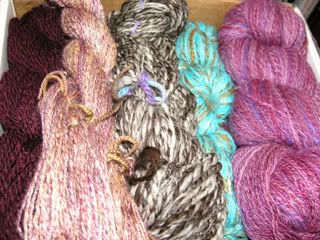 Krista from Pigeon Roof Knits
sent me handspun, as a random act of kindness. Krista tells me that she got her spinning wheel this way, and so she's passing on the love by sending me some of her gorgeous handspun. I was excited beyond words when she offered this, but seeing what actually came in the box left me literally stuttering and more than a little shaky from the sheer, amazing joy of it. I'm sure you guys can understand.
Naturally, since it's raining like the dickens out there I can't get good pictures. The colors actually came out a little better in the picture above, taken with a flash, than the macro ones below, which I manipulated to make as close as possible to the real thing. The real colors are actually somewhere in between.
This one is all lovely natural earthtones, which Hubbster has claimed as his own. Socks, I think?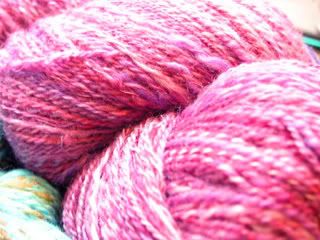 This incredible piece of woolen lusciousness is calling my name. Nay, it is crooning to be made into delectable sockie-wockies for my very own self. Maybe this yarn will be the inspiration required to make me finally try socks with a cable or lace pattern? Any suggestions? On the other hand, Aline (new knitter from across the hall) says it's way too beautiful to put on one's feet. Perhaps a lacy scarf/stole??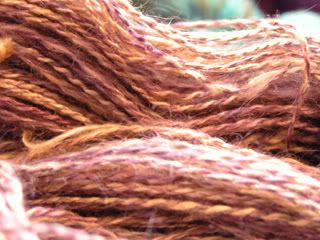 Given the nature of this gift, I want to make the other three yarns into gifts for other people. This one is mohair-bamboo, and the picture doesn't remotely capture its breathtaking color and shine. I think it would be lovely for Fair Isle trim on a hat or in a sweater, with something very plain for the background, to show off the color and texture?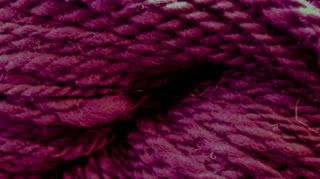 I really like the idea of putting these two together, or maybe the teal with the luscious purple-mauve-lavender-rose-etc one above? The burgundy one is really a rich burgundy, not at all captured in the photo. The teal and tan is more accurate, although the tan is really more brownish than it looks here. Ideas?
Krista, you made my day, you rock my world, you will bring me untold hours of continued joy as I knit with all these lovely yarns -