It's official! I'm done sizzlin'! Either that, or Sizzle is done.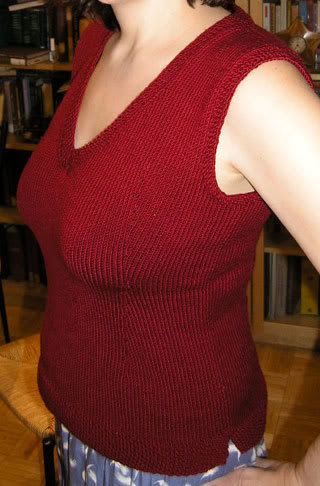 I think I'm going to start trying to be all organized about this FO business, even though I'm never using yarns anybody's ever heard of:
Pattern:
Sizzle
by
Wendy Bernard
Yarn:
"Magic" microfiber (fiber content unspecified), made in Germany, bought in Russia, DK weight
Gauge:
6 sts and 8 rows per inch on US#4 needles
Modifications:
Because I switched to a DK yarn, I knit size 'L' in order to achieve measurements close to the specified 'M'. Then I adjusted the number of incr/decr and rows to make the waist a little smaller and correct for the change in row gauge: I decreased every 5th row, nine times total, and then increased every 5th row 8 times total.
Also, I stupidly picked up too few stitches around the collar. I had slipped the first stitch of each row, then picked up one stitch in each "V" on the edge, which is the same as one stitch per two rows going in the other direction. As Wendy points out in the pattern, it really works better to have about 2 stitches for every three rows. I only realized this as I was binding off, and I
really
didn't want to have to rip it out. Really. So I finished binding off and tried it on...and ended up sewing the two ends of the neck trim together (at the center of the V) instead of letting them cutely overlap as they do in Wendy's version. I would prefer to have done it right, but what I've got also looks really nice and has the enormous advantage of being done, so there it is. My knitting and the bind off were loose enough to make up for any pulling, and it lies nice and flat and not forced-looking.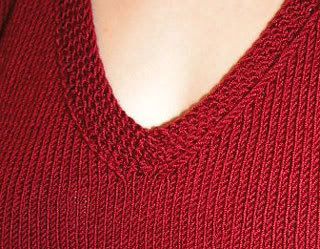 (the apparent unevenness in the width of the trim in this picture is because of the odd angle - oops)
I'm really happy with the results, although it could actually have been a little more close-fitting at the waist and hips. However, if I hadn't read the posts on the
Sexy Knitters Club KAL
and on
Laura's blog
(is it me, or do I link to Laura in almost every post? Hi Laura!) -- if, in short, I had followed my usual instincts and habits, it would have ended up huge, and abandoned. I just hope it doesn't grow after it's washed, because of course I didn't swatch, so I couldn't wash my swatch. So, in case you were wondering, I didn't block it, and don't plan to until it needs washing anyway, and then I'm going to be
very
careful.
About seed stitch: I've always pretty much avoided it. I don't know why exactly. I didn't used to like the look of garter, then EZ changed my mind on that. I really like the look of 1x1 rib except that, as you
now know,
I can't do that properly. Somehow, I never choose seed stitch when looking for a border. It was prescribed in the pattern here, so I did it, and I
really
like how it looks. Except for one thing. I picked up and knit a plain row around the collar and armholes, then switched to seed stitch on the next row. I don't altogether care for this transition. It's messier than picking up a plain knit row then switching to either a ribbing or garter. What do you all think about picking up in knit, then a row of purl, then seed stitch? Would that be better? Has anyone tried it?
Overall, though, I'm very pleased with how all the shaping and picking up of stitches looks. I've had so much trouble (and outright failures) with these problem areas whenever I knit with anything cottony (that isn't fuzzy enough to fill in minor inconsistencies), that this pattern felt like a bit of a test. And I think I passed!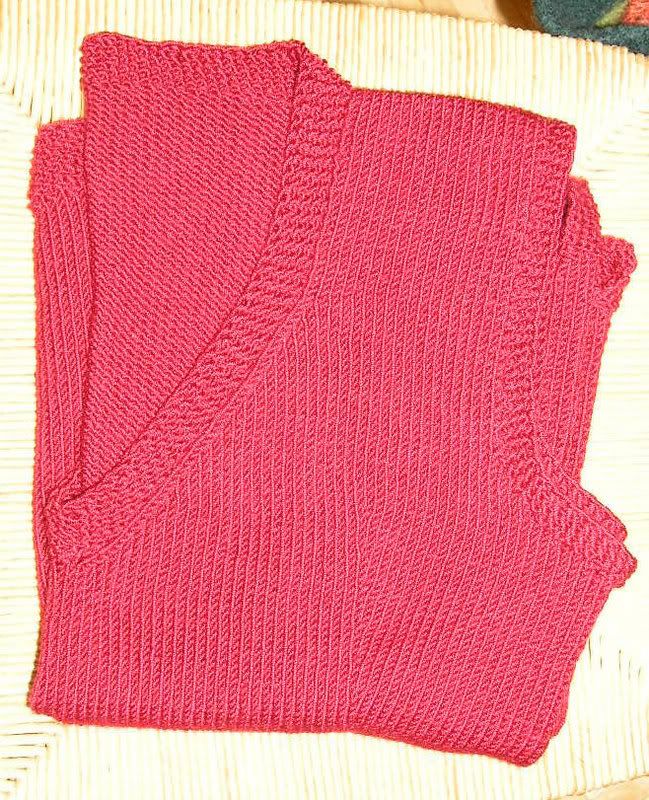 (Click for slighly bigger version)
I have lots of yarn leftover. Nearly enough for another Sizzle. What should I do with it?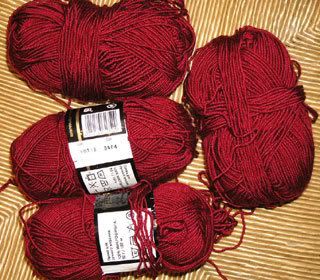 (This picture is actually the best one yet for conveying the true color, at least on my monitor. Why is a complete mystery, since this was shot in far from ideal circumstances.)
PS: Yes, those are my pajama bottoms I'm modeling along with Sizzle. Cute, aren't they?