Um, okay, wow - where to begin. The
Yarn Harlot's
"
Represent
" book launch / "Woodstock of our people" (to quote
Amy Singer
) was one of the most amazing events I've ever been to. In fact, I can't think of anything like it I've ever experienced (but then, I haven't been to Rhinebeck yet!) And needless to say it was EXACTLY what I needed in my life lately. First, a caveat - I only took a few pictures and they're crappy, because I couldn't find a seat along the aisle and as it was I made this very nice couple who had a violin and several bags with them (not to mention their knitting) get up
twice
to let me by, so I just couldn't get up and run around taking pictures.
Luckily, the awesome candle goddess and incredibly cool person and great friend
Wendy
turned out to be seated just across the aisle from me, and I saw that she was taking lots of pictures with what looked like a much better camera than mine. Indeed! Go look at
her account
of the event now! We had been hoping to see each other there, and when I first walked in I looked around for some minutes trying to spot Wendy or anyone else I might 'know'. Funnily enough, I must have been standing right next to her when I was 'looking around', so that when I gave up and sat down in the nearest empty seat, then looked up again a minute later, there was Wendy! Did you see that I got to have my picture taken with Amy Singer for the
second time
? This was great fun, and Wendy is brilliant. (For the record, it was a nice size 17 wooden needle).
Okay, back up, I need to start from the beginning. I missed the
Central Park sock picture
, which was really unfortunate. I had my sock with me just in case (still just that toe...), but my meeting with the prof ran to 1pm and the meetup was at noon. Bummer. Now, I had scheduled this day very tightly. As my first "day out" for anything but groceries or other necessary errands in a really long time, and likely the last one for another long time, I wanted to pack it with many things. I also wanted to make sure my mind would be fully occupied until bedtime, so I wouldn't have a chance to think about the meeting with the prof until it had already receded a bit (it wasn't that awful, but there were still a number of insanely infuriating moments which I'm trying not to recall even now). So once I realized I'd missed the sock photo-op in the park, I called up a very good friend of mine who I haven't been seeing enough of (who also finished her diss last spring in similarly awful circumstances), and we did some much-needed shopping (had no jeans left) and even more needed whining and bitching over lunch. I just barely had time to run over to the 1 train uptown to FIT in time for the talk (I should point out that by this time I was carrying three heavily annotated chapter drafts, the camera, the sock, two new pairs of jeans, the icarus, a sweater, a coat, and a bottle of water in my over-loaded arms because the temperature had gone up from the 40 degrees it was when I set out to a very balmy, humid, almost-hot 70-something - to the people who sat next to me, I apologize for the smell).
I arrived at FIT hot, sweaty, but delirious with anticipation. As I walked up 27th looking for the C-building, I heard several women behind me speaking with a certain familiar degree of that bouncy, joyous glow that can only come from having just bought yarn and looking forward to hearing what Stephanie Pearl-McPhee has to say. I knew I was in the right place.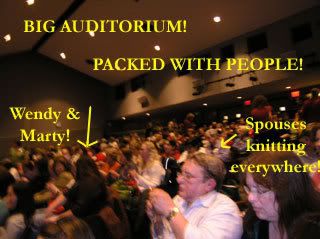 The place was HUGE. And PACKED. Since my current temp job is event planning for a regional studies institute, I can tell you that a
major
Russian author on his first-ever trip to the US cannot hope to command even a third this many people, even while there's an important literary event happening the same week (but not conflicting) to draw people from out of town.
There were people there to see the Harlot from Switzerland. From London. From
Texas
(which I sometimes think must be even farther away). Unlike
the book-signing I went to before
, a lot of people seemed to have brought their SOs to this event. And since they had put a ball of yarn and needles on every seat so you could knit an afghan square for charity during the event, all the SOs I saw in my vicinity were dutifully at least making the attempt to learn to knit. It was lovely to watch. Also, it was soon revealed that I was sitting next to the
Sock Tsarina
! I got to see her
blue stocking
sock up close! The woman who dyed the yarn for it (link to come, I hope) was also sitting right next to me! I so need to make a pair of those socks...not only have I always identified with the good old nineteenth-century
bluestockings
, but they'd be perfect for the
KnitBlue KAL
!
While everyone was getting seated, there was a slide-show on the stage featuring some very familiar (and some not so familiar) photos of Stephanie's socks in various locations: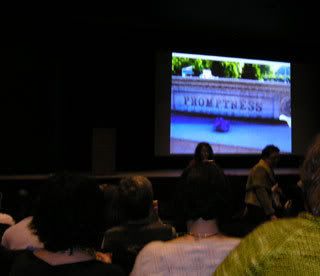 Just that fact that 750 (or was it more like 800?) people were sitting in a room looking at pictures of half-finished socks traveling around the country almost made me teary-eyed. Seriously. Okay, maybe I was a little overwrought, but this was the best vibe I've ever encountered in any group anywhere, and all without benefit of mind-altering substances (unless you count newly-purchased sock yarn as a mind-altering substance?)
The roar that came when the Harlot stepped on to the stage was incredible: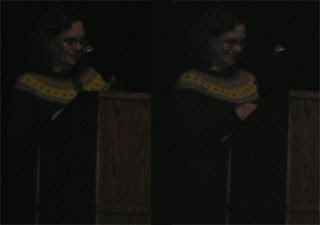 Not that we don't love our Harlot, but SHE WAS WEARING THE BOHUS!!!! So, yes, a large percentage of the roar was for the sweater. So, since you can imagine how much 750 knitters can roar for their Harlot, add the Bohus, and you'll see what kind of response it was. Poor Stephanie did look of rather small stature up on that big stage, but her hair looked terrific (which is a lot more than I could say in that humidity!), so did her pants, and the sweater was glowing perfection of fit and design.
And then...guess what? JOE WAS THERE!!!! In a total surprise to Stephanie, Joe was planted in the front row. Her reaction was incredibly endearing to watch, though I worried a little bit for poor Joe, finding himself in a room full of 750 knitters who 'feel like they know him'! He seemed to handle it very well though. (On that note, I was able to wave madly at Wendy's SO, Marty, from across the aisle. I think he must have thought I was insane, but it was still fun after hearing so many great things about him on Wendy's blog. Oh - and Wendy's birthday-present necklace from Marty was gorgeous - I
did
notice!)
So, the talk. Hilarious, of course. Heartwarming and not a little bit political, too. All in a way that was so inclusive, constructive, and good-humored. I couldn't help thinking that in this terrible, terrible era in US and (to a lesser but real extent) world history, THIS is what we all need. Knitting, Harry Potter, and a Yarn Harlot to occasionally remind us what it all means and how important it is. And make us laugh.
Magnificent Juno was there to collect money for Knitters without Borders and hand out pins (I got my pin!). I can't tell you how awesome it was watching her walk up the aisles, unable to even know where to turn amidst the "Juno! Over here!" calls coming from every direction, along with arms waving money, sometimes with knitting in the same hand. And then to see Juno dance past Stephanie at the stage, waving her jar and saying, "look at all the money!"
Meanwhile, we were all knitting our afghan squares. The donated yarn - brace yourselves, people - was Paton's SWS!!!! All natural fibers, wool and soy. The yarn I have been most dying to try lately (thanks to
Laura at Affiknitty
!). I got the "Natural Earth" colorway, which is exactly what I would have chosen given a choice. I LOVED working with it and am now even more anxious to go out and get some for myself. I managed to finish a square just as Stephanie reached the end of her talk:
The pamphlet that came with it from
Warm Up America
listed several patterns, so I picked one that I hadn't done before, "shadow triangles" or something like that. I figured I should let the newbie SOs in the room do garter stitch. On the other hand, my ability to concentrate on stitches amidst all this excitement and hilarity - or even to read the pattern, actually - was zilch, so I have no idea what I actually did, but it looks pretty (thanks to the yarn!) and at least it's rectilinear.
While we're talking about kindness and good deeds. Wendy came with a present for me. A present! For me! Out of nowhere, she handed me a bag containing
a beautiful porcelein tart burner and a variety pack of her soy tarts
. The incredible random acts of kindness I have benefited from since becoming involved in the knitting community just blows my mind. No other people anywhere are like knitters,
really
. Wendy knew I'd really been wanting to try her tarts, because a little while ago, not being able to justify buying them for myself, I got them for my mom for her birthday. I'd sent her one of Wendy's candles for christmas and she'd really loved it. She used to burn the run-of-the-mill Target-type scented candles (being blessed by no headaches), but she told me after she tried Wendy's "tranquility" candle that she had no idea what she'd been missing. No more Target for Mom. So I figured a tart burner was a good idea for her, and that way I could send her new tarts every once in a while and try out all the scents vicariously through her (or just bring a whole bucketful when I visit!). She absolutely loved the burner and all the scents. The weird thing is that so did her
dog
. Honestly, the dog was completely indifferent to any other candles (which of course are always kept well above her reach), but kept hanging out under the counter where the tart burner was sitting, clearly enjoying the atmosphere there. Really funny. So now I have a tart burner of my very own thanks to Wendy!! I'm burning my first tart, "wild spruce" right now. It really fills the room, which is amazing considering that it's a big open living/dining/kitchen and entry way. The tarts definitely seem to reach further than a single candle, plus I like having the option of inexpensively trying out lots of different scents. Each one lasts for hours and hours and hours. We've had wild spruce going all morning, and Hubbster loves it as much as I do.
Have you ever tried organic raw sugar or organic eggs, exclusively, for some period of time, and then gone back to the regular commercial white sugar or eggs again? And realized that by comparison they taste like solid chemical waste? That's what it's like with Wendy's candles. They smell like the real thing. You can't go back.
So, after Stephanie finished her planned talk, she opened the floor for questions. There were wonderful, hilarious comments and questions from the audience, and Stephanie's responses had us all rolling...but, sadly, I didn't get to stay to hear all of it. Have no idea how long it went on, actually - I wouldn't be surprised if it was hours! But, according to my plan to pack the day as fully as possible, I had arranged to meet Hubbster later for a movie he really wanted to see. By the time the Q&A was underway, he'd already been standing outside the theater for half an hour. I was so torn - and you know how very much I adore my Hubbster, so it's really saying something that I lingered and lingered and felt really really torn about going to rescue poor Hubbster (as I soon found out, it was also raining by this time!). But in the end, knowing that the only book he'd brought with him was for his oral exams and that he doesn't knit, I decided I needed to be merciful and go to him. So, I dropped off my afghan square and sprinted to the movie theater a few blocks downtown, making it
just
in time to slip into seats as the movie was starting.
Um. First I'd better explain something about Hubbster. He loves, loves, loves ancient history and so he can't resist seeing any movie set in any time or place more than 500 years ago, even though he has yet to see even one that meets his high standards, and even though the vast majority of such movies are total crap. Since meeting Hubbster I've seen a lot of movies that I would never have gone to otherwise. Last night, we saw
300
. A greater contrast between that sick, bloody propaganda-fest and the Yarn Harlot event
there could not be.
Seriously, it was like intellectual whiplash. While it was possible to sit through 300 and kind of enjoy it by giggling at all the
unintentional humor
and waiting to see whether it was really going to break out and turn into the gay porn flick it was so clearly dying to be, by the end I could only be surprised that it didn't have a little "Paid for by the Coalition for America" tagline at the bottom of the screen. Seriously. It was pretty to look at (very pretty) and the Persians had some hot, hot, hot piercings which I admired, but everything else had the quality, nuance, and message of a Republican campaign ad. Afterwards Hubbster agreed to three things: 1. Next time the Harlot is in town, he's coming with me. 2. I get to choose the movies we see from now on. And 3. All the world should learn to knit.
If you want to see a good movie, see
The Curse of the Golden Flower.
A lot of people look at the promos and assume it's
Crouching Tiger, Hidden Dragon
all over again, but it's not. This time the whole formula came together and it's done right. It has all the grandeur and terrible inevitability of a Shakespeare tragedy, but the beauty comes from the visuals and the acting instead of the language. Everything fits, and I think for what it does it's perfect. (Don't ask me about
Apocalypto.
Please. Sitting through it was enough.)
I have enough SWS yarn left for a second square, and last night after we got home I got halfway through it -- plain, with a cable in the middle. These squares will probably be my first and only FOs of this terrible dissertation-finishing season. That feels right.