First, a new
Yarnival
came out while I wasn't looking. I totally missed it, until I received a comment from someone who found me there! So I went and looked, and indeed there's a new and wonderful Yarnival over at
NotScarlett
. Check it out!
NotScarlett chose to include my post about the
Stages of Diss Writing and Knitting
. I think I'm now ready to add
Stage Eight:
Writing:
Wha? It's all crap. Hate it. Looking at the damn thing makes me literally sick to my stomach. Even the names of my advisors, never mind anything they actually say, can put me instantly in a state of prostration and/or hysteria. Yet, somehow, I keep slogging through it. Remember how I was once looking forward to the revision stage? I've always loved this part. The problem is entirely the profs who don't read anything but on whom everything depends. How do they sleep at night? Probably like babies, I know. [BTW - huge thank you to whoever it was who recommended
PhD Comics
to me (sorry, I can't seem to find you again...) - VERY therapeutic stuff!]
Knitting:
For the most part I have been completely unable to do anything but play computer solitaire in the hour or so before giving up on the self-torture known as "revising" and falling asleep. Note that I'm not even playing regular computer solitaire (it's too challenging and makes me want to cry), but "spider solitaire," because it's almost impossible to lose. Note also that this hour before collapse each night takes place between around 2:30 and 3:30 am. And then I toss and turn all night, dreaming of professorial firing squads and tangled yarn. What is this doing under the heading "knitting" you ask? Well, last night I achieved two more rows on this sock, and consider it a major emotional triumph: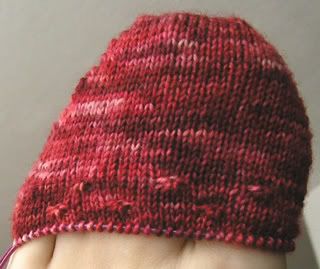 That's the
wildflower pattern from f.pea.
I think the effect is probably better with more wildly-colored yarn, but it's a fun technique. I wouldn't try it with needles any less pointy than Knit Picks', though.
Also in the last few days, I tried starting some EZ garter-stitch booties to match
the BSJ
, since I have plenty of leftover yarn.
I got that far in one evening's work, and haven't been able to get back to it.
And then, one day I had a fit of temporary insanity (this happens to me regularly lately) while taking a quickie mental-health break to look at my bloglines. I came across
this amazing pattern
. First, I love that you can memorize the entire pattern in about 30 seconds, even in a state of mind like mine. Second, I love that it fits on my
knitting cheat sheet
in 2 lines. Third, I love the idea of wearable, interesting, cute slippers that I can make in no time at all out of almost any yarn. Fourth, I absolutely adore the lime green ones I came across on someone's blog that led me to the pattern in the first place (except, sadly, I can't remember which blog it was or find it on google - sorry!). So, revisions forgotten, I ran to my stash to see what I had that would work. No lime green, and nothing woolly that was both appropriate for this project and not already earmarked for something else. I wanted something random, that I didn't have much of anyway, so that I wouldn't be taking yarn away from a more complicated or bigger project. I found some crazy pink cotton from Russia that's too wild to wear on anything but the feet, and has the double advantage of being soft and sturdy. So, still in the initial frenzy, I got this far: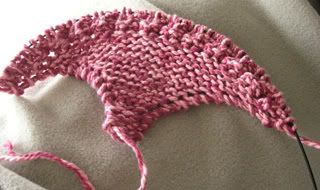 I got as far as just the first two rows of ribbing. And then I realized that of course ribbing in cotton won't contract and make it look all cute like a miniature purse when it's not on the foot. And I did the increases in YOs, thinking it was pretty, which it is, without thinking about how I'd have to do matching YOs with all the decreases on the other side, which will get to be a major pain (literally) with bulky cotton yarn at this gauge. So, all at once, I ran out of gas, dropped the slipper, and got back to my revisions. I think I'll probably frog it and do it again in some more sensible yarn.