Alright, just because
Beth
insisted, here I am posting.
At least I have something to show for myself!
A vest!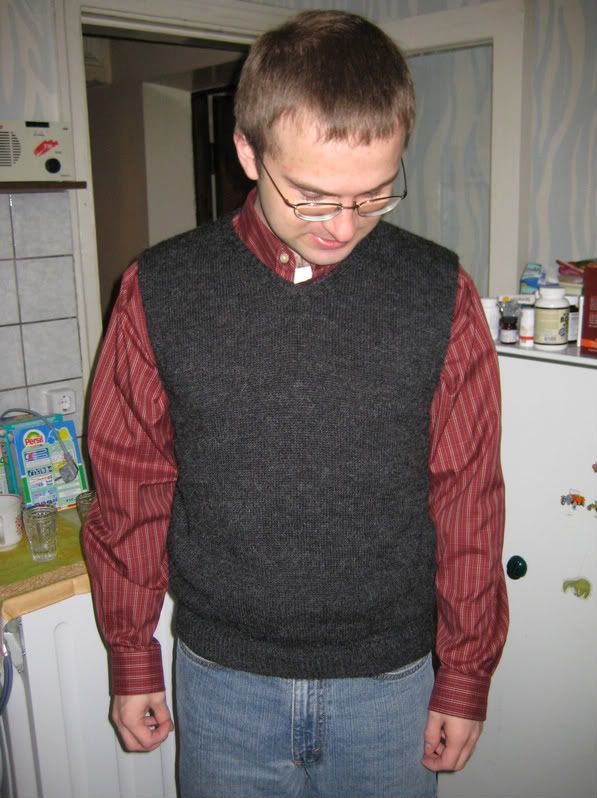 Sorry the picture sucks - it's 6 degrees celsius and drizzling outside (snow yesterday!) and I had to take it quickly while Hubbus was on his way out the door this morning.
The vest is made out of the same 50% wool / 50% alpaca "Alpafina" yarn I used for the body of the Fair Isle 101, which I had loads of leftover of. Now I have about 20 yards left, at most. Score! (Yes, those last few inches of knitting were nerve-wracking.) Those of you keeping score will note that Hubbus has gotten more than his allotted one sweater per year this year. I think it was the idea of not having to bother with sleeves that got me. I don't wear vests myself, so I'd never thought to make one, but when he mentioned (100 or so times) that he'd really really like a hand-knitted vest, it finally sunk in that this would mean I wouldn't have to make sleeves. Awesome. So I did it. It went remarkably fast, though on US#2 needles - I did almost all of it either while walking by the river last weekend during a warm spell, or while reading a certain now-infamous thread in the Ravelry forums about the
MCY scandal
(I hope none of you have bought anything from Mystical Creations Yarns in the last year or so? If you have, you might want to read that).
I had browsed Ravelry for a pattern, and didn't come across anything with the very simple shape that Hubbus requested, so I ended up winging it (only to find, literally while the vest was busy blocking,
this patter
n which is almost exactly what I ended up doing). I made EZ phoney seams for the first time ever, and quite like them. There was miraculously little problem with the knitting - I didn't have to frog a thing!
And since then I've already finished the first sleeve for a cabled cardigan for myself out of the brown Russian wool that I got as a gift from my in-laws when I first arrived. I'm making this one up, too, since even if I could find a satisfactory pattern online, it'd be a pain in the butt to print it, and I was too lazy. It's fun making up the cable patterns - let's hope it doesn't end up being hideous....