We went to visit Hubbster's grandparents and aunt in a suburb this past weekend. They got me a present in honor of my successful dissertation defense.
Yarn.
Are they awesome in-laws, or are they awesome in-laws? They bought me *yarn*!!!
Let's look a little more closely at the yarn (click for slightly bigger).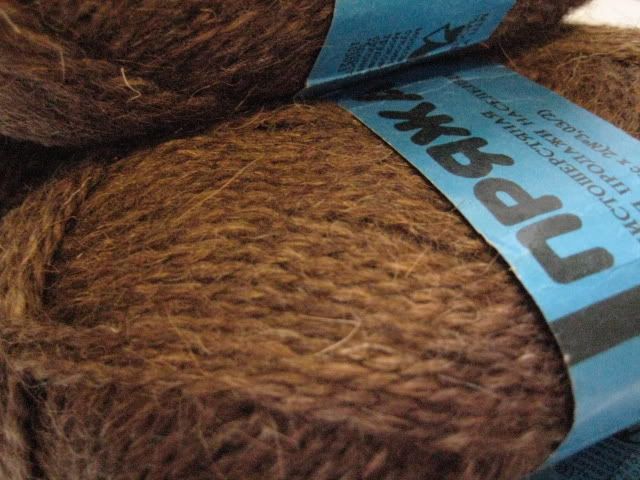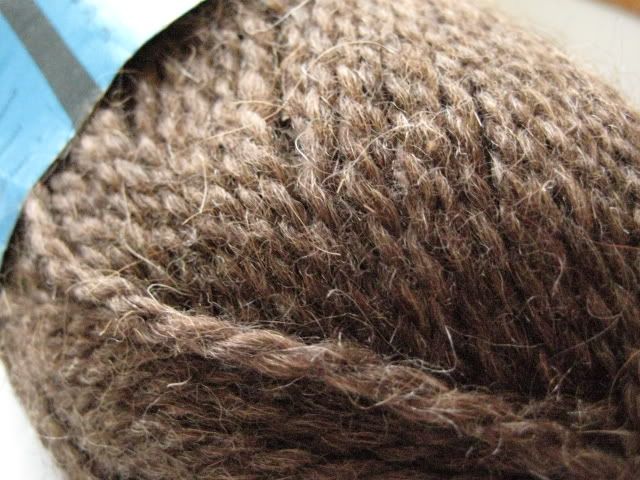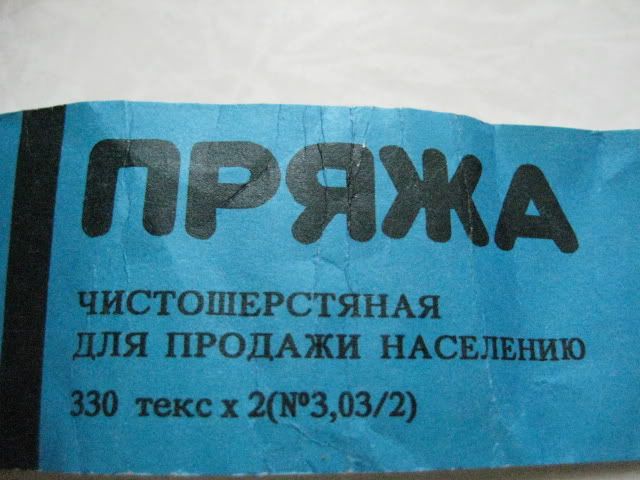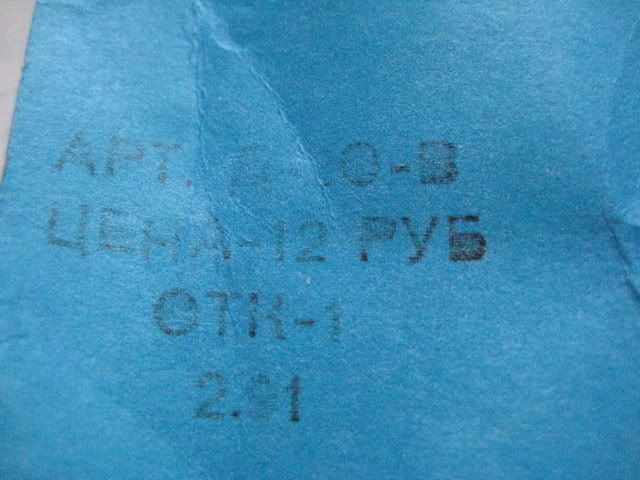 It's 100% wool, 2-ply, approximately a worsted weight at a guess. 9 balls at 151 meters per ball.
The biggest letters on the label say, "Yarn." And it says it's made in...the RSFSR. That stands for the Russian Socialist Federated Soviet Republic (er, or something like that...I may have mixed up the S's?).
Actually we think the yarn is probably not that old, just the labels are, but it's super-cool nonetheless. I thought I'd completely lost my chance to see the old-style labels. Not that the new ones are all that much more informative, but this one is just nutty. Here's a direct translation:
YARN
Purewool
For sale to the population [presumably as opposed to factory use?]
Length of thread in the ball calculated at 151 m.
Weight of ball in conditions of 18.25% humidity, 100 gr +/-6
Do not wash yarn in the ball.
RSFSR "MosSherst'" ["MosWool"]
Moscow Industrial Cloth Union
Moscow Order of the Worker's Red Sign [I've never been able to properly translate Soviet official babble of this type]
Cloth Factory "Wool-Cloth"
105023 Moscow, Medovyi pereulok ["Honey alley"], 5
It's also stamped with a price of 12 rubles. Since that would have been way, way too high back in the old days, we're assuming that's the current price (we forgot to ask Hubbster's aunt to find out for sure). That's about 50 cents.
The yarn has a delicious lamb-y smell and isn't particularly scratchy at all (it's not butter-soft, but I would say it's comparable to KnitPick's Wool of the Andes - a basic wool).
In further news of my in-laws' thoughtfulness, I've been dying to show you all my new knitting/spinning nook.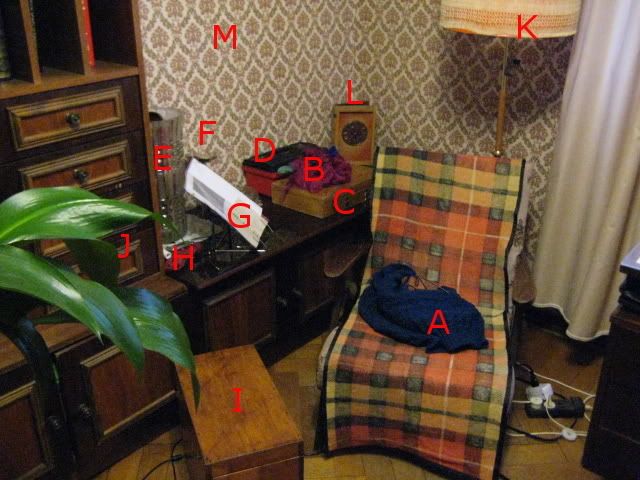 This is the nook (again, click for slightly bigger).
A - the Dutch Fisherman's sweater in progress. I'm about 3 inches above the point where I separated the front and back for the sleeves.
B - Random remaindered spinning wool of indeterminate derivation which I got dirt cheap while on Long Island. Like, less than $1. I'm using it to practice Navajo plying.
C - Beautiful old wooden box I'm using for tools - calculator, measuring tape, scissors, etc.
D - Ugly plastic toolbox I bought at Walmart in Michigan before I left, to hold my spinning stuff. I think it's going to have to get hidden somewhere because it's so ugly. (NB: if you're looking for plastic organizers at Walmart, look in the "men's" sections like tools, cars, and fishing. Same crap as in the "women's" crafts sections but half the price!)
E - Large vase in which I've stored spindles and long knitting needles. Also a secret new spinning tool that I'll tell you about in another post. My PVC niddy-noddy is behind the vase, leaning against the cabinet.
F - Little glass vase (not visible) in which I've put crochet hooks and two little spindles.
G - Bookstand holding my pattern for the Dutch Fisherman's sweater.
H - Mp3 player containing the audiobook of "Jonathan Strange and Mr. Norrell" by Suzanne Clark, which I got free through the NYPL. *Highly* recommended.
I - Beautiful, beautiful wooden box containing my fiber stash. Yes, it all easily fits in there. So far. >:->
J - Drawers emptied by Hubbster's aunt so I could use them for knitting stuff. I'm keeping the sock in progress and some more spinning in progress in those.
K - Very bright lamp conveniently placed for maximum effect.
L - Clock stolen from the kitchen so I can tell how much time has passed while I've been knitting if I really want to know, but conveniently placed *behind* me so I can not know if I don't want to.
M - Funky Soviet wallpaper. Just so you know - there often wasn't a whole lot of choice in wallpaper, furniture style, etc.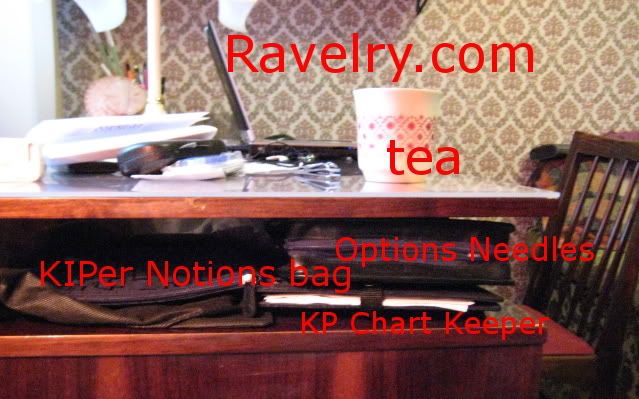 When sitting in the knitting chair, this is the view to my left - it's the edge of the desk (where Hubbster is usually sitting while I'm knitting), which has a convenient shelf on the side for some more of my knitting paraphernalia.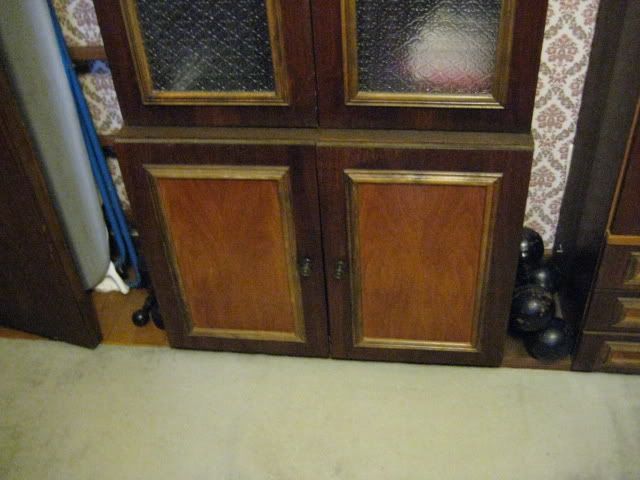 This is the cupboard on the other side of the room, which houses the stash (yes, of course I already have a stash here, why do you ask?) I haven't yet put the new yarn in there - lucky there's room!
And finally, I continue to gradually catch up on pictures of FOs from the fall. Here's what I made out of that blueish merino handspun I showed you last time: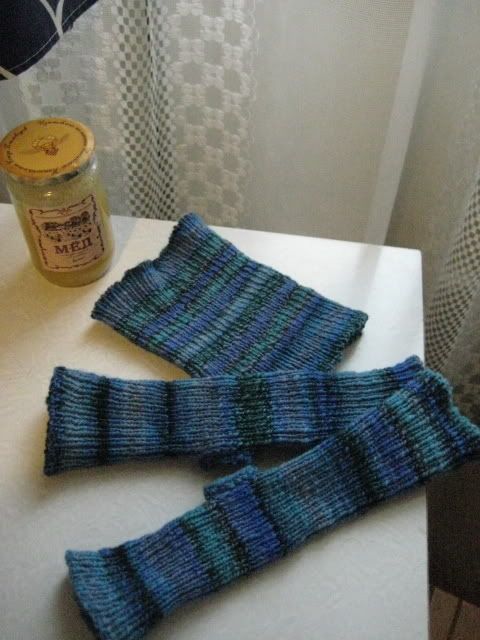 It's a neckwarmer and matching wristwarmers. First it was going to be just a neckwarmer. Then as there was a surprising amount of yarn left, I started wristwarmers. I kept going and going...and the yarn just wouldn't end. Lucky I have really long hands/fingers!