Edited to Add: Actually, as it turns out, I'm less picky than the Harlot, too. Those unmatched ribs wouldn't bother me at all - in fact, I've probably done that inadvertently and not even noticed. Though I suppose it depends on how the sweater is supposed to hang (ribs stretched apart, or bunching up). Good to have these things sorted out. And good to know that cool technique from Veronik Avery - just in case...
Funny how you think you're "practically done" and will suddenly have more time...and your immune system kicks you in the ass and reminds you that, actually, you have to pay for all those months of poor diet and no exercise and stress....blaech. Anyway.
I finished a bath scrubby made out of my new KnitPicks CotLin!
This took only a very small part of the skein, so I'm going to make one more scrubby and maybe also something else.
Before I attempt any kind of review, a few caveats: I'm not a picky knitter. More
Harlot
than
Grumperina
, you know? And I've never had any trouble knitting with even something as rough as kitchen cotton (in three strands even!), though I also don't knit with cotton more than once in a blue moon. I'm also not exactly meticulous about...anything. So I'm maybe not the best reviewer in the world. But, I'm happy to share what I've noticed from playing with CotLin so far.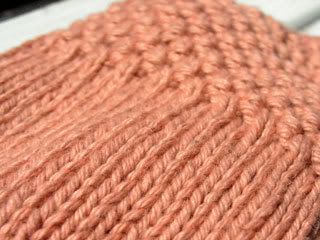 As you can see, the stitches are even and balanced. It has no noticeable elasticity, but wonderful drape. Check out the CO edge of the scrubby - I did 2 or 3 rows of stock st, then a row of k1, p1, another row of plain knit, then p1, k1 across, and continued in stock st. Not the slightest little hint of a roll - I think I could have left it in plain stockinette and it would have been flat enough for my purposes. The hand is similar to other non-mercerized cottons - it's soft in that cotton-y way. But it's also very light, and smoother than kitchen cotton. I personally very much enjoyed knitting with it, but like I said, I'm kind of insensitive to the hand-cramping others seem to get from knitting with inelastic yarns.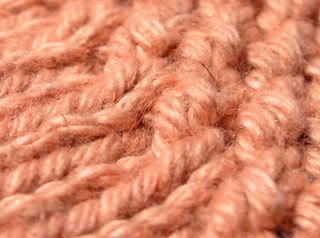 There are quite a few bits of very small, light plant matter throughout the skein. I started taking them out and then decided it was probably a good thing for a scrubby and left it in - you can see it in this picture. You can also see the slight, fuzzy halo from the cotton. It's less fuzzy than kitchen cotton, but not as sleek as linen (nevermind the shine of mercerized cotton. It's definitely something I would make a garment out of, but only a summery, casual, drapey sort of garment.
I haven't yet tried washing it or using it as a scrubby, since I decided to send this one off to Mom, with her new socks (see below) for mother's day, but I'm making the second one for me and will let you know if it does anything funny in the wash.
As for color - these pictures are accurate on my monitor. I love the light sport-weight gauge, allowing you to knit lighter or finer pieces than kitchen cotton.
Verdict? I've
already
ordered more, now that they've got the natural linen color in stock. I'm going to make some dishcloths, and I have a feeling I'm going to need to make still more in a variety of colors. I think this yarn fills a wonderful niche - between kitchen cotton and mercerized cottons and the more expensive and stiffer 100% linens and hemps - and I'm delighted to have it available, even though it's fairly limited, in my mind, to tanks or light summer tops, and washclothe/towel-type things. But maybe I'm just not using my imagination enough?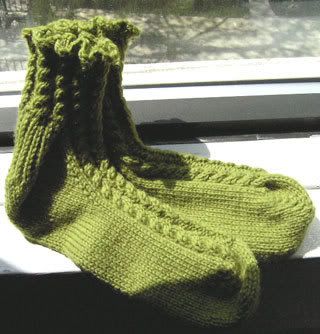 I also finished the Avocado socks for mom for mother's day. They look much less funny on the feet.
And, I've been
knitting blue
. Yummy.