I did the deed.
Just once. I cut the first sleeve steek, and have picked up my stitches and begun to knit down. Phew. There were some dicey moments, but right now everything looks good.
I followed
Eunny's tutorial
to the letter for the crochet-reinforced steek, although since my pattern had already had me knit an even number of steek stitches (10), I deviated slightly in leaving two whole, and two half stitches (one on each side of the whole ones) in the middle of my steek. I have to say, I felt rather safer this way in any case.
I prepared early by going out and purchasing a pair of designated steek scissors. They're small, very sharp, and more than a little scary. I got them at
Pearl River Mart
where, coincidentally, you can also get sets of 4 super-long DPNs like people used back in the old days before circular needles, in a variety of metric sizes. Anyway.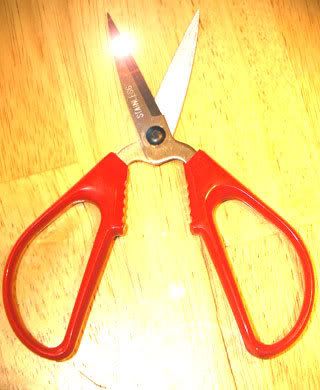 This is what the crochet lines look like. It was remarkably easy, actually -- and this from someone who hates crochet and really did need Eunny's detailed instructions to remember how to do even single crochet.
Then I cut. I confess, after the first snip, when the little cut yarn ends jumped up and fell apart, my hands started to shake and my heart raced a bit. I paused, I breathed, I called to Hubbster for support -- "Help! I cut it!" "What?!" "No, I meant to, but it's scary!" "You'll be okay!" "But it's
cut
, my knitting is
cut
!" "I thought that was the point." "It is the point, but it's scary!" "Breathe!" -- and then I kept cutting.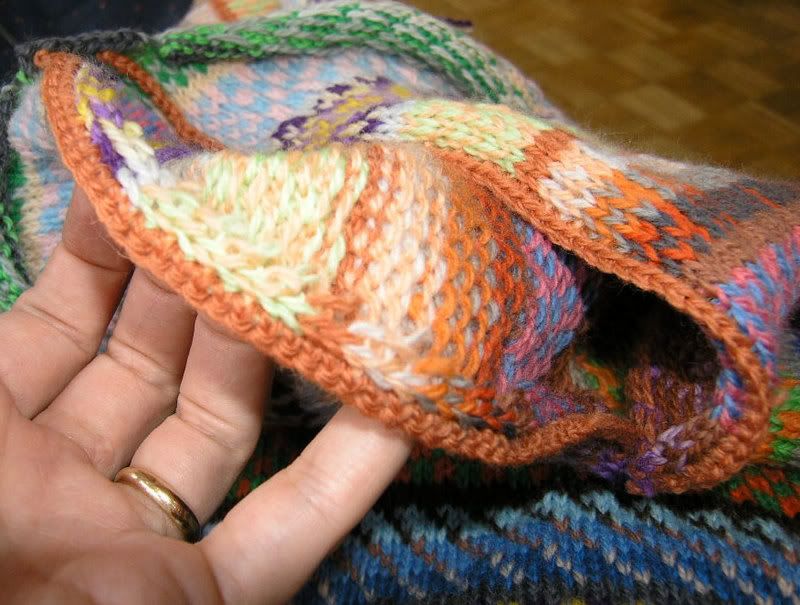 (click for bigger version)
I think it's fine. There was no trouble. I still can't quite believe it happened, though. What you see above is the inside, cut edge of the steek. Eunny says to trim this, but I don't dare, and don't think I need to, as it folds under neatly all by itself anyway.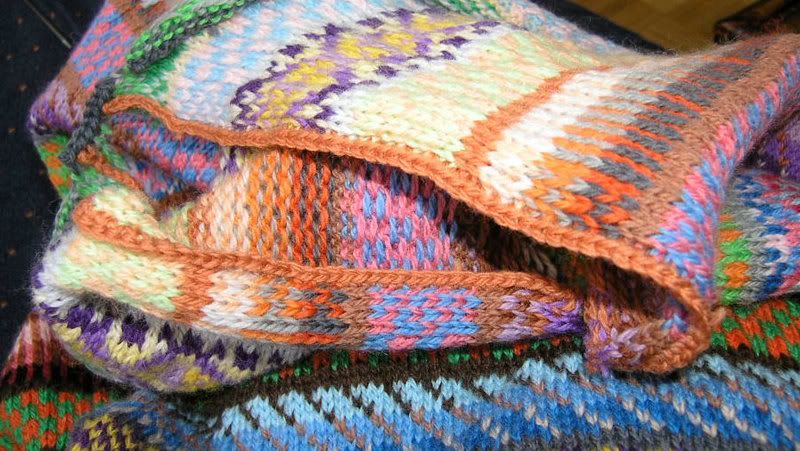 (click for bigger version)
This is the steek from the outside. See out the line of single crochet makes a nice, neat, firm edge and the cut ends fold under?
(click for bigger version)
This is me picking up stitches. Not sure if I did it "right," but I like the results.
I knit four rows into the pattern, enough to do one decrease and to get a feel for managing the floats over the two "corners" formed by the Magic Loop (it is a little harder to maintain the right tension on the sleeves, as
Cookie
pointed out
, but so far so good).
Then I switched to the sock for a little R&R. I got to the point I (thought I) was at by the end of my Day of Knitting Adventure on Saturday, and will probably finish it today or tomorrow.
By the way, the hardest thing about making this sweater might have been managing all the different colors, since the color-coded chart doesn't exactly match the actual colors of the yarn (actually, not even close to exact, but close enough not to confuse you when you're only reading row by row). However, whether by brilliant planning or coincidence, KnitPicks does not wind this yarn in a center-pull ball, thus allowing clever folks like myself to fold the label with the color name facing out and tuck it securely into the center of the ball, so I always know what it is: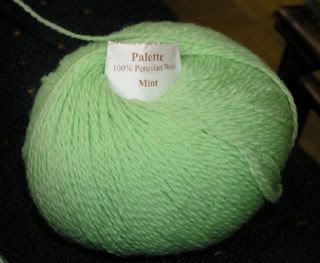 Me so clever, clever, yes?
Meanwhile, I'm back to work, on the next chapter. I hate Microsoft Word. Hate hate hate
hate
it.
There.
Love you all, will show you some mismatched socks soon.