I'm on
Cast-On
! Brenda Dayne accepted my submission for a "Today's Sweater" essay, and it's in the latest episode! Go download it! I didn't read it myself; I really would have liked to, but I have no microphone, and I live in a very noisy NYC apartment, so it just couldn't happen. But I'm delighted to have had it read by the wonderful Susan's mellifluous voice and so excited to have played my small part in the wonder that is Cast-On!
I love the idea of knitting podcasts in general, and they arrived just when I was running out of other things to knit to (I've never been very good at doing only one thing at a time, and really cannot knit alone in a quiet room). But Cast-On is my favorite of all the lovely knitting podcasts out there. It seems to just be the perfect balance of knitting content, random musing, talk and music, humor and seriousness, and all in just the right light tone. And I could listen to Brenda's voice forever. (Though, to my disappointment, I have yet to hear the dogs snore. It must be all the ambient noise in my apartment.)
Anyway. Here's a couple pictures of the sweater I talked about in the essay, which I took while I was visiting Mom in Michigan this summer.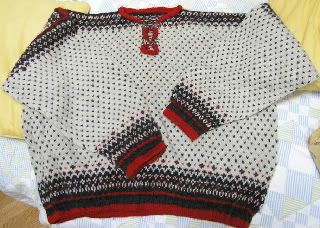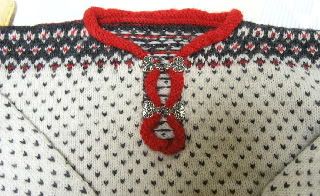 You can also go to the archives of this blog to see my first few posts, in which I described my first knitting projects, including the first sweater, the second sweater, and the very first gauge-disaster sweater, all of which were mentioned in the essay.
In other news: it's going to be a fabulous knitting-related weekend here in New York City. I'm going to be at
The Point
to see
Amy Singer
from knitty.com on Saturday between 12 and 3, and then I'm off to Brooklyn to see the
Yarn Harlot
and get my books signed, and on Sunday I will probably make it to the Knit-Out in Union Square, and almost definitely to Knitty City between 6 and 8pm. If any of you also plan to be in any of these places - look for me, I'll be wearing my cherry-red Icarus shawl - and say hi!