(and for once I'm not talking about revising anything, least of all the diss, thank god)
Since my last post, I have been to my first fiber festival ever, and I learned how to draft with my new supported spindle. I haven't gotten much progress made on my WIPs, but I can only take so much excitement at one time!
First, the Allegan Fiber Festival. I first heard about this last year, when I
just
missed it, even though it takes place every year just a half-hour drive from my dear mother's home and even though she
knew
about it (but didn't mention it, not imagining that I was that into livestock and not realizing there might be anything else there). Soon after that devastating moment of realization almost one year ago, I discovered
Beth's blog
, because she posted about having been to the Allegan festival, and all the lovely things she bought there.
She reacted well to my jealous rampage in her comments, and we've been friends ever since. And now, just one year later, I've been to the festival myself, with Beth, and I brought home my own goody bag(s) full of - among other things - fiber to spin, which I never thought I'd ever be bringing home since I didn't think I'd ever be able to spin it.
(BTW, yes, now I'm lusting after a spinning wheel. I thought the one advantage to not being able to spin was that I wouldn't have to long sighingly for spinning wheels, but so much for that...)
The festival was much bigger than I expected (of course, I haven't seen Rhinebeck or Maryland). Lots of vendors (over 100 according to the directory), lots of sheepies and goats and alpacas and bunnies.
Hubbster and I ran into
Galina
's booth right away, and not long after converged there with Beth and one of her spinning students,
Becky
(in the photo below, I'm on the left in desperate need of a haircut, Becky's in the middle, Beth's on the right. Husbands and children are hovering off-camera, trying not to be embarrassed by the weird knit bloggers and their strange habits).
Beth helped me pick out yarn to make Galina's Orenburg-style shawl, Lily of the Valley (from Knitters, Summer '04). Beth has already made a prize-winning version, and I'm going to use the same yarn, an angora/silk blend.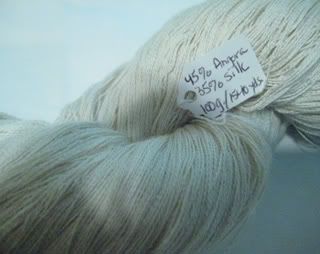 The shawl is for my Grandma, and it's got to be done by her birthday in May. Hmm!
Beth also brought me some goodies I'd asked for from her shop - my first Addi Lace needle (I hope not to be the last - it's great!) enough pink Jaggerspun Zephyr for an Orenburg shawl for myself (which I'm going to do first, so I can work out the kinks; it's already started).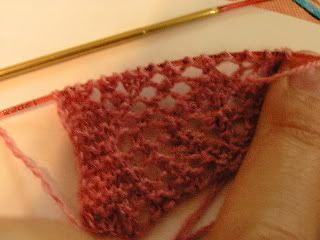 Also some tweedy-pink Jaggerspun 100% wool fingering weight, which I had thought was also Zephyr but wasn't. It's awfully pretty, though, isn't it? I'm thinking I have way too many shawls in the hopper and should use this to make some Nancy Bush socks I've been thinking about.
Then we proceeded to explore...Beth introduced me to some of the fleeces she bought (still being carried around by the animals that produced them). Here she is picking out still another fleece: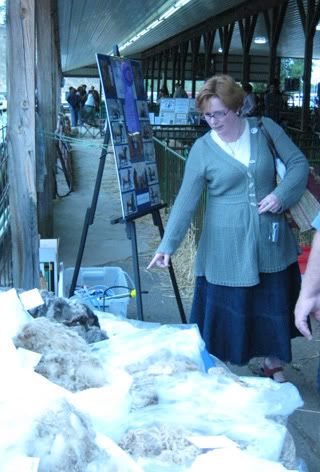 And we had lots of fun petting adorable sheep and goats with Beth's even more adorable kids, Ryan and Maggie. Here's me and Ryan and a goat exactly Ryan's age (and same height, too!):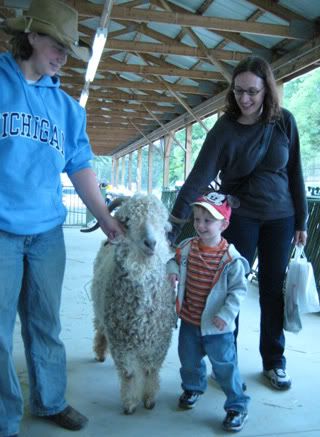 (Whenever Ryan wants to show you something, he grabs your hand and says, "Come here, I need you." Is there anything cuter than that?)
Here are some of our other new friends (you'll have to ask Beth to know what they all are - all I can tell is that they're cute and their fleeces are lovely to pet, which is enough for me):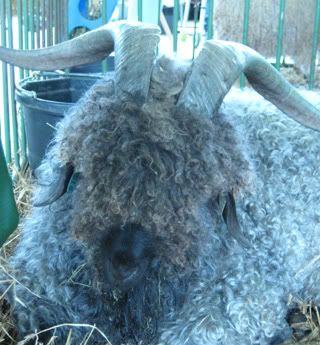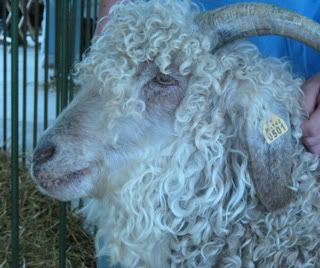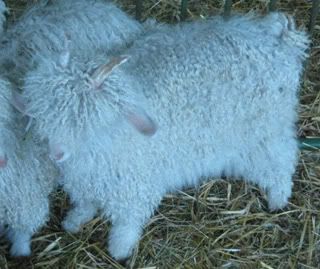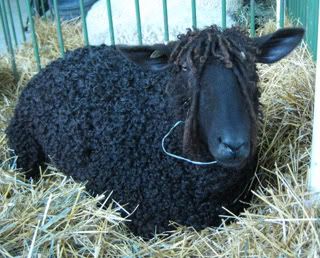 Throughout most of our wanderings, Hubbster was following me around, reading his detective novel and holding onto my sleeve so as not to get lost and accidentally end up going home with some other knitter: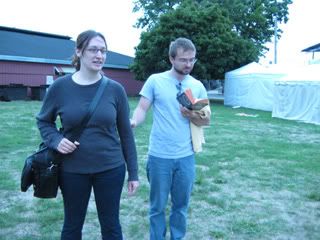 However, he admitted later that he actually really enjoyed himself. He loved touching and smelling all the undyed fleeces and admiring the beautifully carved spinning wheels, looms, combs, etc. Most of all he liked the animals, and especially the sheepdogs, whom he watched demonstrating their prowess with the sheep while I was off in a barn making purchases (I'd post a little video of the dogs if I knew how to do that kind of thing).
He was equally amused by all the other husbands, most of whom looked as awkward and out of place as I would at an airshow. I made a point of calling his attention to several males who were spinning or learning to spin, and he admitted that this was very cool, though not necessarily as "masculine" as could be desired. (Someday, I'm going to spin flax, and let him beat the raw flax for me [see below]; this has been pronounced a suitable activity).
I was most amazed by the
Briar Rose booth
- so much gloriousness in one small space! There was beautiful fiber everywhere, of course, and lots of beautiful examples of masterly hand-dyeing, but I thought the Briar Rose stuff really stood out. Beth pointed out that people tend to think Briar Rose is based in Wales because it's a sponsor of
Cast-On
, but actually the founder is here in Michigan.
One of the most special things for me about the festival was the lady demonstrating flax spinning. I'm uncommonly interested in this process due to having spent the last several years of my life studying the 19th-century diary of a Russian gentrywoman who spent a great deal of her time spinning (mostly flax, some wool), supervising serf weavers who made the flax into cloth, and knitting (it's not clear whether she ever knit the flax, or just wool). She left out, of course, all the details that she took for granted like what kinds of tools she used, what garments she made (other than stockings and sometimes scarves). Mostly she wrote "I spun all evening" or "I knitted a stocking." But often she wrote "the women beat the flax" or "the women scraped the flax," and sometimes "So-and-so warped 3 spools; more than yesterday!" I didn't know the process involved in preparing flax for spinning, and had quite a bit of trouble translating terms from Russian to English when neither I nor the dictionaries and various people I consulted on the Russian terms really understood the process.
Now, most of the terms have suddenly been made clear, and very real, to me: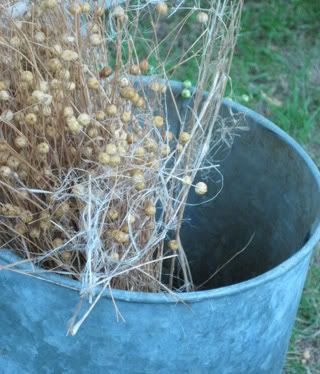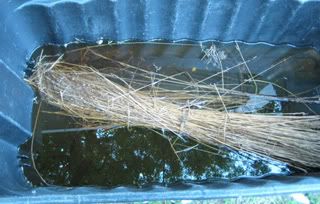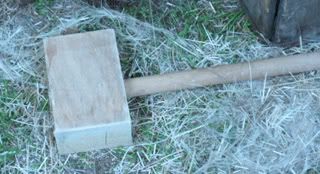 (the tough outer part of the flax stalk is beaten, then scraped off with a blunt wooden knife, so the inner stringy part can be combed for spinning)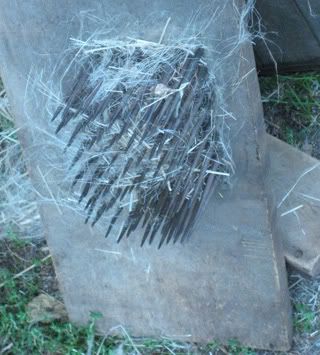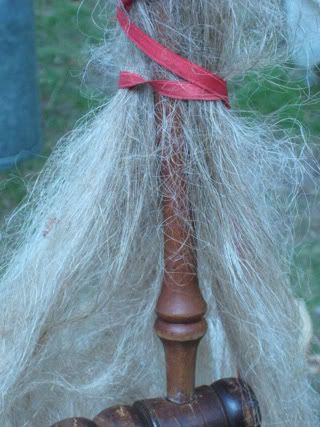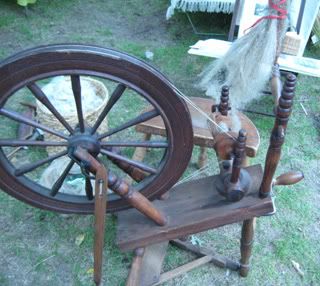 And of course after it's been spun its name changes to 'linen' in English, god knows why (it's called "lyon" in both forms in Russian)
All this thanks to Virginia Handy of
Flax Craft
. I love that someone out there is keeping these skills alive. And yes, I'm
totally
going to look for spinning wheels, and flax, as well as wool when I'm in Russia!
At this point we'd seen just about everything, and eaten our elephant ears, and said goodbye to Beth and her family, and it was time to get back home for dinner with mom.
But wait. Could I leave without buying more?
Of course I had to buy more. I'm learning to spin - I need fiber!
I lucked out, and on one last quick run through the vendor stalls found some really pretty grab-bags of very inexpensive mixed wools, perfect for playing with (from
Orchard Hill Fleece Farm
). I got three chunks of roving, one labeled Hampshire and mohair, another red alpaca / mixed wool, and the third cream alpaca / black border leichester / white mohair.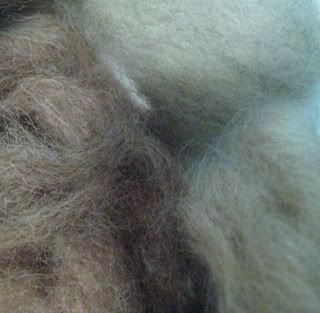 Um, and then, just on my way out, I was seized by this: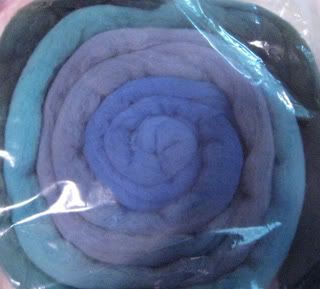 It's merino, it was only $6, and can't wait to play with those colors.
Oh, and I begged Beth to send me undyed silk hankies, so I can play with kool-aid dying and spin more hankies, since up to that point that was my favorite thing to spin.
But things have changed.
As soon as I got home from the festival I got out my turnip spindle and tried to spin the Hampshire/mohair roving from my grab bag. I was going along just like I did with the merino top that Beth gave me, which was working pretty well as you
saw
, and then all of a sudden the tension of my arm holding out the yarn as the twist was going in
accidently
drafted the fiber out into a really nice, smooth, nearly perfect single. I couldn't believe my eyes.
It did it all by itself!
This blend just seems to want to be spun into just that size yarn, and it will do it almost no matter how hard I try to screw it up. Now that I've been playing with it awhile, I can even get it to draft properly with my left hand before I let the twist get into it (though I still can't possibly get both hands on the fiber without stopping and holding the spindle against my leg; if I lift up my right hand while it's spinning the spindle immediately drops sideways and the fiber breaks)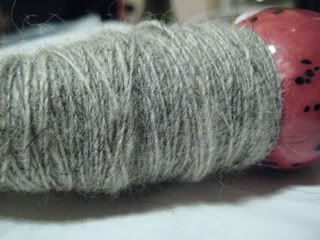 The main thing is, I think
I finally get the concept of drafting.
That is, I still don't have very good control, but I can see and feel how it's supposed to happen. It felt like a light-bulb turning on, really!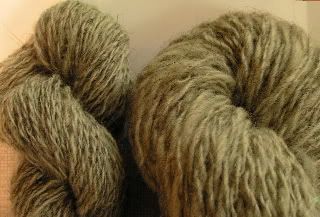 The first hank of Hampshire/mohair is on the right above, the second, last, and much-improved hank is on the left. I'm going to try to apply these newfound skills to the other grab-bag fiber now before going back to the beautiful merino top, as now I've become more ambitious and am hoping to make a reasonably decent usable sock yarn from the merino!
Meanwhile, I've started some legwarmers which I forgot to photograph, and a quick little scarf in broken rib out of the silk yarn Beth gave me, which my mom has laid claim to because it's her color. I have to admit it looks much better against her skin than mine, so I will give it to her (see, Beth, I'm not a totally selfish knitter!)