It's been another really good day. Which is especially nice since the last three days were spent migraining and completely spazzing out about how little work I've gotten done lately. Pretty much par for the course for the holiday season, I suppose, but today at least I'm feeling completely at peace with the world.
That's what yarn can do to a girl, yes sirree.
I won another prize. This one's from
Beth
, for hazarding a guess at the purpose of her
mystery object.
All us guessers got prizes, and I might even (maybe) share part of mine with my husband, who also contributed a guess, though a mightily wicked one.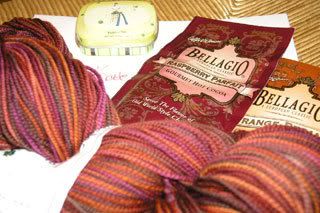 Take another look at that there yarn. Looky, looky, looky.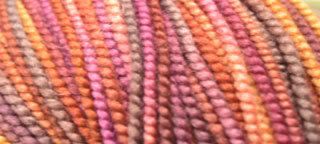 Cherry Tree Hill, and no picture could possibly do it justice. It's divine. And partly because it's in a red-family colorway, naturally these socks are going to be for ME, with no weird gigantic gussets necessitating funky toes. Mine, mine, all mine. I think I'll use my newly perfected formula for toe-up short row AND gusset socks, and maybe the
Thuja pattern
again just because I like it (and it's dead easy, which is still the level I'm at, sock-wise).
Lovely, lovely Beth also put in there some magnificent hot chocolate packets and mints that come in a little tin that says "Knitting Girl." I've already decided that when the mints are gone (won't take long - they're green apple!) I'm going to use the tin to keep my migraine meds in. I always need a new "indestructible" small container for my ever-present headache medicines, and this one should prove
much
more cheery than the one I got free from the neurologist - with a drawing of a person in pain, holding their head, on the top - is that really what you want to see when you reach for the imitrex, I ask you??
Beth rocks. Did you know her contest was related to the opening of her new
spinning store
in Michigan? I didn't even know there were such things as spinning stores before I "met" Beth, but
sweet sassy molassy
, that's a heavenly-looking place! I can't wait to go when we next head out to Michigan to visit my mom, who lives not too far from Beth.
Meanwhile, because of the migraine, I haven't been getting a lot of writing or blog-reading done (Hubbster banned me from the computer for the duration, since staring at a screen tends to make it worse), but I did at least manage to knit much of the time. I finished the striped leftovers handbag, ready for felting:
And also finished the red super-sized fuzzy feet, and started yet
another
pair, this time using the PGR toe-up method on 44 sts, just for variety. And for a little while there I lost my mind, dropped all current WIPs and started some
Twinkle Toes
from the bran' new issue of
Knitty.
It's okay, though, because they're already finished! Here's the obligatory ballet pose: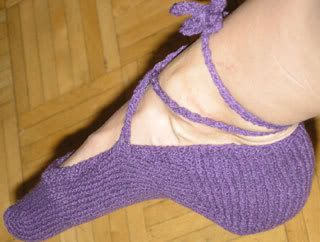 But I'd like to point out that they still look really cute even if you hold your feet like a normal person, and they're terrific for summer slippers or bed socks.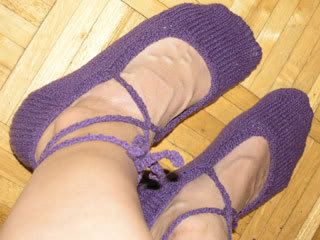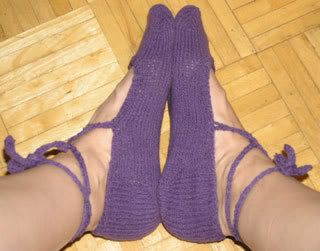 I made mine with random Russian yarn from the stash - 95% cotton, 5% lycra for stretch. Roughly a DK weight, kind of boucle-like in structure. I had no idea if this would work and never did check my gauge; I just made a toe, and it fit, so I kept going. I also had no idea how much yarn was in a ball; it just said 50g on the label, and the pattern used the same. Worked out fine - I ended up with about half a yard leftover! And that's after adding considerable length to the pattern. Even though it says they're really stretchy and the "adult" size should fit just about anyone, and even though I was substituting about the stretchiest yarn you could get, there's no WAY I could have gotten these suckers over my heel if I'd followed the pattern. I added 10 rows, in 5 sets of two, evenly placed between toe and heel. I might have gotten away with only 8 extra rows, but any less and I swear they would never have stretched far enough. But I've got a pecularly narrow size 10 foot, and it has become abundantly obvious to me lately that what other people mean by "average woman's foot" means, in my unique universe, "way too short and possibly too wide," so I will just have to always adjust accordingly. The beauty of this pattern is that it is absolutely clear, easy, and problem-free, and totally adaptable to minor adjustments. I plan to make another pair for a ballet-loving friend with especially small feet, and I think I'll start with fewer stitches for the toe, since the number given in the pattern was plenty for me, and her feet are miniscule compared to mine. Also, for my pair, I made the ties only 56 sts instead of 66, because I can never get ballet-style ties to stay up that high without cutting off circulation. So I made them shorter, tie them lower, and all is well. Still cute. And I love, love,
love
the heel construction. Will copy it, probably, on most future socks. It's pretty much exactly what I had finally concluded I needed to do to get a decent-fitting toe-up sock heel - that is, a full short-row heel
plus
a little bit of a gusset - all validated by someone else and everything.
I'm totally excited about the new issue of knitty. I love
eiffel
, and (obviously)
twinkle toes
, and
piggle
and
sheldon
. And I'm very likely to someday make
center square
,
calorimetry
,
brown bag
,
argosy
or
legwarmer socks
. And
monkey
adds itself to the long list of
Cookie's
sock patterns that I'm going to make just as soon as I can rely on myself to make a respectable stockinette sock, and can then begin venturing into the kind of territory where it would hurt very, very much to have to rip back 50 rows, you know what I mean? But several of Cookie's patterns -
hedera
,
pomatamatamatamus
,
baudelaire
, and now monkey - top my to-do list. I also really, really love the features in knitty. I always learn some major new thing every time, and am usually much amused and intrigued and better informed after each new batch. I particularly loved this issue's
article about the yarn market
, of course. Seems like we were all indeed
on to
something
!
And just wait till we get the surprise. There might be something super-exciting in there from my perspective, especially. That's all I'm gonna say.