This is random, but I've been wanting to show it off to you all for a long time, and since I don't have anything else to blog about today, I will.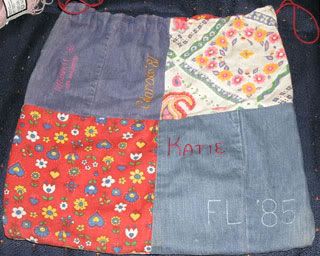 This is my prized knitting bag. For a long time, it was buried in my closet because it held a UFO (one of the ones that got frogged in August). One of the benefits of frogging that UFO was that I got to re-discover my favorite knitting bag all over again, now disassociated from the frustrating sweater-that-looked-mauled-by-a-cat.
If you look closely, you can see that this bag was made for me in 1979. My mom sewed it, cleverly doubling or tripling the thinner printed cotton fabrics to match the weight of the denim. Then, she embroidered my name on it, and "Montana '79" because she made this - and a matching one for my brother out of tan corduroy and green cotton prints - to hold the stashes of crayons, paper, Uno cards and other odds and ends we were given to get us through the long train ride from Michigan to our aunt & uncle's house in Missoula, Montana, and back again. I was four at the time, and one of my clearest early memories is the overwhelming surprise and delight I felt when I opened up that bag for the first time. My parents were really young and still finishing school, not to mention they were hippies and it was the 70s, so we did not get elaborate presents for birthdays or christmas. A scratchy sweater, a board game, and some small stocking stuffers was more like it in those very early years. So, here we were in mid-summer, no special occasion, and I got a bag full of all my favoritest things in the
world
. I didn't happen to know that crayons, paper, and card games were really cheap - to me, they were highly coveted and endlessly entertaining items, and I couldn't really imagine what anyone would want with anything else. I think this feeling is part of why the bag was very, very special to me from the start, even more so than for my brother, who was a little older and less easily thrilled out of his gourd by something like a 48-piece set of crayolas (after all, I had only had the baby-size 8-piece set before this).
Needless to say, the trip flew by, and the bag became my "travel bag," going with us on every trip. And, dutifully, Mom embroided the location and year for each subsequent journey. The one that really cracks me up now is "Nashville '85," because I
insisted
that she embroider "101st Airborne" under it -- the name of a theme restaurant we went to on that trip, that my brother and I had
loved
beyond all things.
Around that time, in the mid-80s, my mom made two more bags for my cousins, with whom I was very close. Times had changed, and so their bags were made with two squares on each side of teal corduroy and two squares of printed cotton in teals, lavenders, blues and pinks. I was
SO
jealous of their pretty-colored bags for a while there, and thought mine looked old-fashioned. It stayed in the closet for most of my middle-school years. We all have these lapses of poor judgement, after all.
Later, when I went abroad as a high school exchange student, I packed that bag with me on purpose so that we could add an impressive "Norway '91-'92" to it. Of course, by the time I got back everyone was busier, and my Mom had (to be honest) never been all that big on embroidery anyway. I was the crafty person in this family, and I was old enough to embroider it myself. I liked this idea, and loved inheriting Mom's embroidery floss collection, but somehow...I just didn't get around to it for a while. Mom had stopped partway through the word "Norway" and so eventually, on a vacation home from college, I decided I must at least finish the
word
. This is when I learned that method matters in embroidery, and it's not as easy as it looks to do it neatly: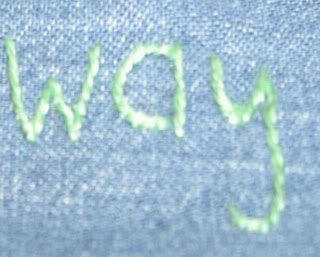 The 'wa' was done by Mom, the 'y' by me. As if you couldn't tell.
So to this day I still haven't done any more than that, even though technically I've taken the bag to Chicago for college, and on two separate trips to Russia, and another to Budapest, since that time.
Somewhere along the line, it has become my knitting-at-home bag instead of a travel bag (it's not exactly a convenient style for my kind of traveling these days). Now that I've frogged that pesky UFO, I'm keeping my currently favored at-home project, the Fair Isle sweater, in it.
So - is there a story behind your favorite knitting bag??
Today's blog entry brought to you by the tangy fruit taste of nostalgia.
One last item for today - if you haven't already listened to last week's Cast-On, do. I signed up on Wikipedia before I'd even finished downloading the episode.
Too tired and scatter-brained to say anything else coherent. Been loving all your comments. I think there were things I wanted to respond to, but don't remember what they were at the moment. I think I'm getting a cold. I feel like my head's full of...well, snot.